[et_pb_section admin_label="section"]
[et_pb_row admin_label="row"]
[et_pb_column type="4_4″][et_pb_text admin_label="Text"]
Smaller down payments trending in homebuyer purchases nationwide:
For those looking to buy a home in 2019, saving for a down payment is no doubt the hardest part. That, along with finding just the right home at the right price in the right location. The gold standard for down payments has been 20% of the purchase price for decades. According to the 2018 Zillow Group Consumer Housing Trends Report, however, only 43% of buyers nation-wide are putting down 20% or more. Almost one-fourth of buyers (24.2%) put down only 5% or less.
While putting 20% down on a mortgage allows buyers to avoid mortgage insurance as well as keep monthly payments lower, the seven years it usually takes to save it up (for the average priced home) is becoming less attainable for today's home shoppers.
Millennial buyers – the largest group all – are the most likely to use multiple funding sources for their down payment, with 51% saying they used a gift or loan from family or friends for at least a portion of their down payment, accounting for about one-fifth of the down payment on average. They also tap investments and retirement accounts.
70% of buyers nationwide use up savings for at least some portion of their down payment, while 39% say their down payment funds came from a previous home sale, which typically accounted for about 20% of the total down payment.
Zillow analyzed five major metro areas – Atlanta, Chicago, Washington, D.C., Phoenix and San Francisco – for buyers' decisions regarding down payments and found that Atlanta and Phoenix had the smallest share of buyers (around 30%), putting the full 20% down on a home. 44.5% of buyers in Atlanta and 36.9% of buyers in Phoenix are only putting down 5% or less. Meanwhile, buyers in Chicago, San Francisco and Washington, D.C., are at least as likely as the typical national buyer to put down 20% or more.
A surprising fact to come out of this study is that the median mortgage payment in both Phoenix and Atlanta is $1,131 a month, lower than the median mortgage payments in Chicago ($1,336), Washington, D.C. ($1,850), and San Francisco ($2,158)—but buyers in the three metros with higher monthly mortgage payments are more likely to put down 20% or more than those in areas with lower payments.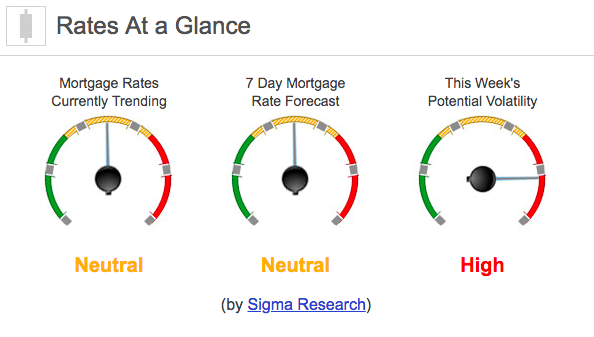 Rates Currently Trending: Neutral
Mortgage rates are trending sideways this morning. Last week the MBS market improved by +23 bps. This was enough to move rates slightly lower last week. We saw high rate volatility throughout the week.

Home Loan Calculator
[/et_pb_text][/et_pb_column]
[/et_pb_row]
[/et_pb_section]