[et_pb_section admin_label="section"]
[et_pb_row admin_label="row"]
[et_pb_column type="4_4″][et_pb_text admin_label="Text"]
Trending more than ever: down payment assistance from Mom and Dad
It's no longer the exception to the rule. Rising home prices are sending first-time home buyers to their parents for help with down payments, according to Ben Eisen's recent article in Realtor.com.
More than 26% of mortgage borrowers who used Federal Housing Administration-insured loans got assistance from a relative to make the down payment in the 12 months through September. This figure is up from about 22% in 2011.
It comes as no surprise that mom and dad are shelling out cash and helping their adult children achieve the American Dream of homeownership. It has been going on for generations. But according to the 2018 NAR Home Buyer and Seller Generational Trends Report, it's on the rise. The FHA insures lenders against losses on the riskier loans they make. Borrowers taking out FHA loans are predominantly buying homes for the first time and often have weaker credit profiles that make it more difficult for them to get a conventional loan, so it makes sense these borrowers might need to ask for financial help.
This arrangement can be complex at times, with a need to structure the deal from a financial standpoint. Realtors often get stuck in the crosshairs when it comes to bringing family dynamics into the equation. But this can be avoided by having a solid plan and communicating well.
Business Insider's Dana Bull, also a Realtor, says the first thing to do is to figure out a financial strategy that makes the most sense. She advises speaking with a lender, a financial adviser, a CPA, and an attorney to hammer out the details so that parents who want to lend a helping hand are not placing their financial situation in jeopardy.
Then comes the communication part. And it's best to do this before even starting to hunt for a home. Figure out the motivation for the loan or the gift. As a parent, it should be more than about the pride having the wherewithal to do it. As the adult child, would you feel guilty about getting a windfall from your parents and then feeling indebted? These are feeling best fleshed out sooner rather than later.
Then there is involvement. Is it just about the money or do you, as a parent, intend to have a lot of input? Control issues can get in the way of this being a smooth decision. You'll want to talk it out before sinking time into home shopping. According to Bull, a home inspection is not an appropriate place for a family feud.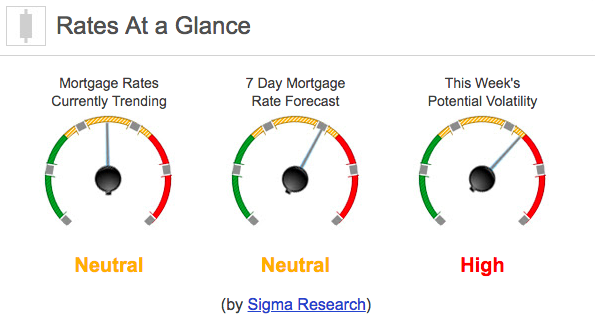 Rates Currently Trending: Neutral
Mortgage rates are trending sideways this morning. Last week the MBS market improved by +7bps. This was not enough to move rates lower last week. We saw moderate rate volatility last week.

[/et_pb_text][/et_pb_column]
[/et_pb_row]
[/et_pb_section]