It's a beautiful morning in SoCal, but not so much for rates…
Mortgage Rates are moving higher as Fed taper speed increases pushing rates this morning back to 2 year highs along pressure from the new director of FHFA Sandra L. Thompson who just raised borrowing costs (significantly) to ALL home buyers and home owners (See 10yr TSY 6 month chart below)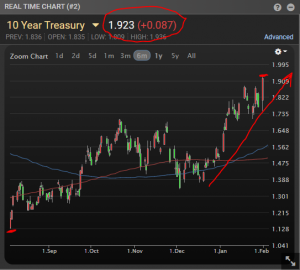 Motivation: this came from foreign central bank announcements–in this case, the British and European counterparts to the Federal Reserve.  Both the Bank of England (BOE) and the European Central Bank (ECB) surprised the market in slightly different ways.  The BOE hiked its policy rate early this morning, despite mixed forecasts.  The ECB did not hike rates, but in comments following the announcement, ECB President Lagarde effectively prepped markets for a rate hike at the next policy meeting.
Translation: big spikes in foreign bond yields led to medium-big spikes in domestic bond yields (aka "rates").
Bottom Line: We are now breaking though technical resistance with the Fed tapering and soon selling off their balance sheet, meaning rates appear to be heading in one direction, UP! In addition freshly appointed new Director of FHFA Sandra L. Thompson just raised borrowing cost (significantly) for High-Balance loans securitized by Fannie Mae & Freddie Mac.  She also raised the cost of "all" second home loans.  These fees are again very significant and is contributing the rate lift off we are seeing today. *I will be doing a separate piece early next week on this topic.