Mortgage Rates are worse since last Friday as MBS (mortgage bonds continue to sell-off).  There was some hope/optimism that Russia's military invasion of Ukraine would create a significant flight to qualify and the stock market would sell-off due to the uncertainty war brings to geopolitical risks, additional commodity inflation, and overall economic uncertainty.  Add to this narrative is that Fed Chairman Powell is set to rate the Fed Funds rate next week by 12-50 basis points.
Yesterday, the stock market was crushed at the opening by 800 points, but rallied into the close to end up in the green.  Example: the tech heavy NASDAQ was down over 3%, but ended up closing over 3%, and 6%+ move in ONE DAY!  Mortgage Rate and Treasury Yields saw much of the same, with yields/rates down significantly at the open, but then rallied to close higher than the previous days close….market experts, bond traders, and yours truly all said the same thing….
Look (below) at yesterday's 10yr Treasury Yield opened at 1.862% and this morning opened at 2.003%.  This kind of move signifies extreme economic optimism which I just do not see in the face of the Fed tightening policy.­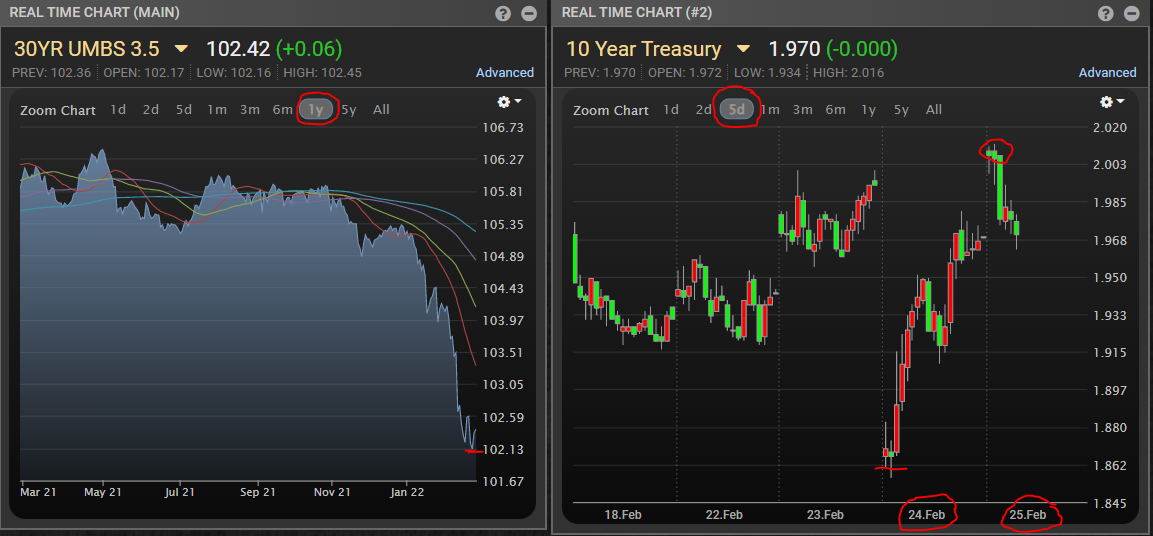 This type of WILD volatility makes no logical sense.  How can investor take risk off the table with such uncertainty right in front of us?
That being said the only prudent thing to do is take your lumps and lock as soon as escrow opens!
Bottom Line: The dominant trend is toward higher rates as the market continues to reprice Fed policy expectations.  There could be shorter-term corrections, but attempting to time those movement is a gamble I cannot endorse.  Below are today's lockable rates: