Mortgage Rates are moving higher this week as Mortgage Bonds (MBS) and Treasury Bonds (TSY) are getting crushed (see chart).
This morning's selling is exasperated by Feds decision to NOT extend the SLR exemption (click here if you do not understand SLR exemption:  https://www.cnbc.com/2021/03/19/the-fed-will-not-extend-a-pandemic-crisis-rule-that-had-allowed-banks-to-relax-capital-levels.html. I wish I could understand how this makes sense, especially considering the Fed is buying $120 billion per MONTH of bonds and now the very market that they are pulling bonds out of to create liquidity, they are ok with 7 months of their purchases going to toward absorbing the bank sales? If you look deeper into this problem, you must realize that bank deposits are a liability. Yes, a liability! Someone is putting their money in bank, essentially making the bank a loan that can be recalled at any time!
The banks must maintain liquidity to cover these deposits. So, more deposits create the need for more liquidity. PERIOD! Now, consider $1.9 Trillion in fresh new stimulus money needing a bank to deposit these funds into. If I want all these deposits, I need to create more liquidity. So, if I were a banker, there are only 2 ways to do this:
I can sell more stock in the open market and create new cash but dilute my shareholders and drag down my share price.
Or, I need to see ill liquid assets to create the cash that will allow me to take on new deposits.
The fastest and easiest thing to sell will be the MBS and TSY holdings that treasuries that JUST yesterday did not count against their liquidity requirements. I expect this selling to continue and rates to keep moving higher.
Bottom Line: LOCK as escrow opens!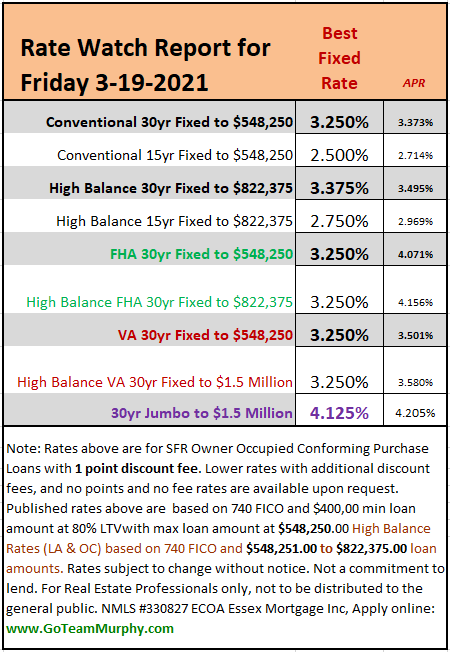 SOURCE & AUTHOR |
Keith Murphy Branch Manager – Essex Mortgage NMLS #330827
Direct: 714-309-1140
Apply: www.GoTeamMurphy.com