Mortgage Rates – remain flat since last Friday's report.  Right now, MBS (Mortgage Backed Securities/Bonds) are following the 10yr Treasury very closely. The 10yr TSY yield of 1.62% has been one of the most important technical levels for 10yr yields in the past month.  After breaking above last week, we had a chance to confirm a break back below yesterday and ended up closing to close for a clear signal.  Overnight weakness emphasizes the challenges facing an easy return back below 1.62%, even if the situation isn't as gloomy as it was several days ago when the bigger risk was a break above 1.75%.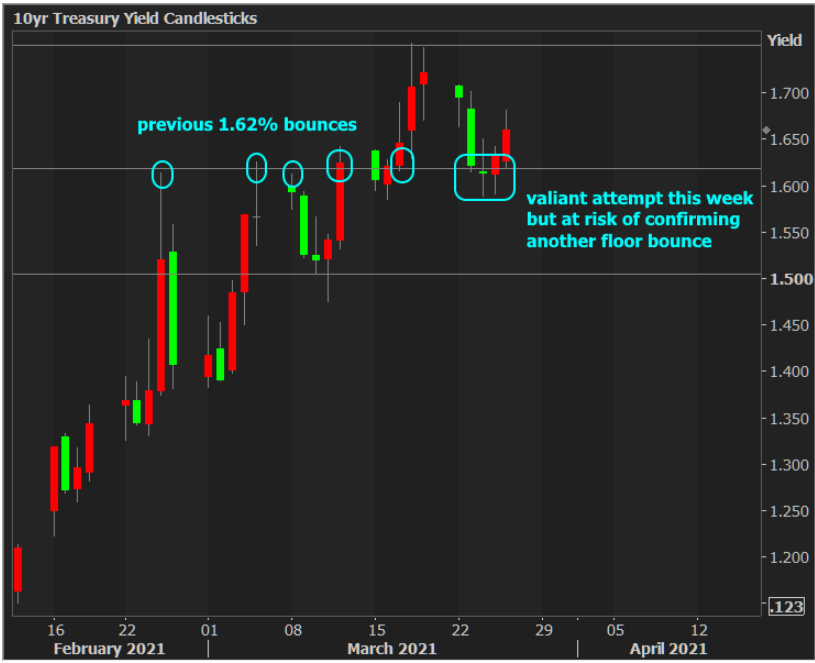 Recent resilience above doesn't confirm a friendly reversal back toward lower yields as much as it builds a case for sideways momentum.  Unfortunately, sideways momentum means a healthy mix of stronger and weaker trading days.  Better than where we were, but not as good as we'd like to be!
There are no significant economic reports on tap.  True, PCE inflation was once considered a top tier market mover, but inflation reports have had a muted impact on bonds since the pandemic.  Trade is far more likely to be informed by month/quarter-end rebalancing flows as well as technical' s.  On that note, if it's not already clear, 1.62% remains an important battleground.  1.75% is likely a safe from attack today, and a challenge of the 1.50% floor is equally unlikely.
Bottom line: we're in the process of feeling out a new sideways range near long-term highs, and we'll have to wait at least until next week to see if the momentum will remain broadly sideways or give way to new directionally move.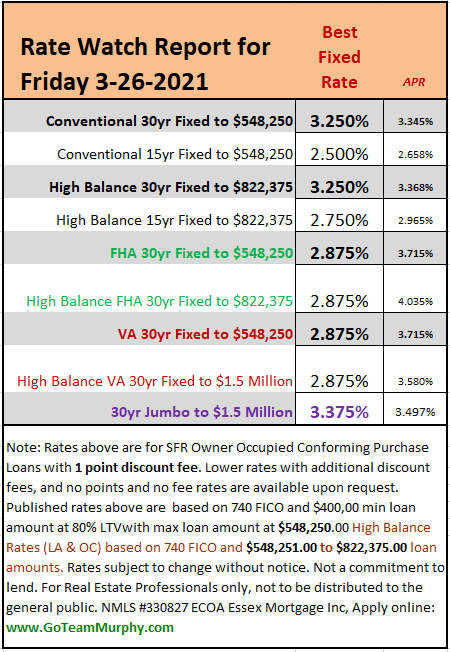 SOURCE & AUTHOR |
Keith Murphy Branch Manager – Essex Mortgage NMLS #330827
Direct: 714-309-1140
Apply: www.GoTeamMurphy.com