Mortgage Rates have fallen "quickly" to the lowest levels in weeks!  If you are reading this email each week, then it's no secret that mortgage rates have had a rough month in March and a rough year in general. The average lender raised 30yr fixed rates by roughly half a percent in February and March alone.  But April has proven to be an entirely different sort of month so far.  In the past 2 weeks, rates are down nearly a quarter of a point!
Here is a chart of the last 5 days of MBS 30yr Coupon trading (as bond prices rise, yield/rate comes down):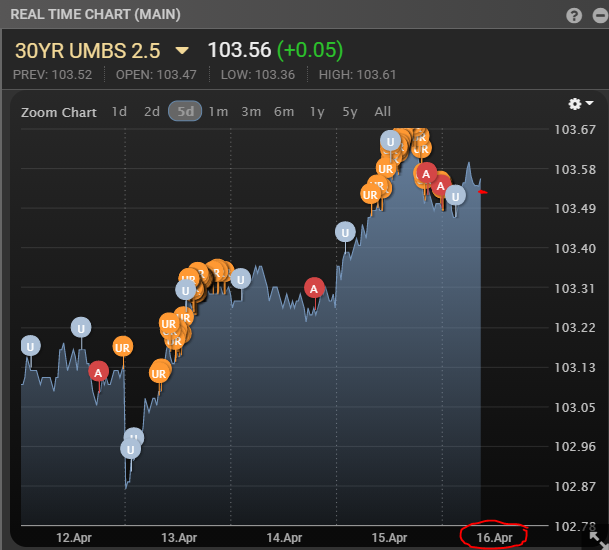 If we take a wider 6 month view, you can see we still have a long uphill battle to get back to rates in the low 2% range: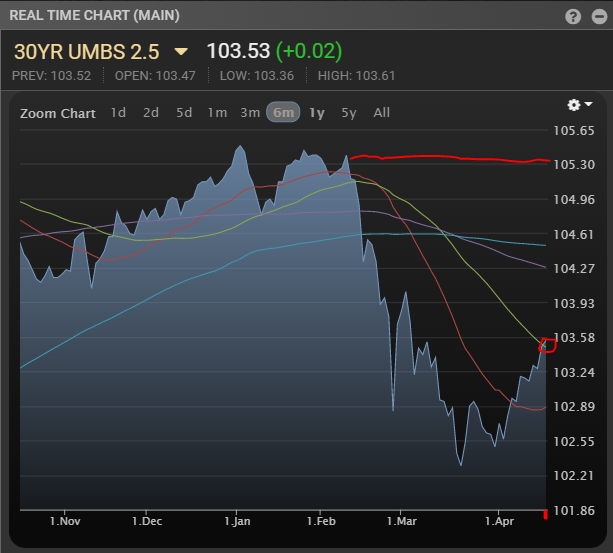 One of the most interesting things about today's move was that the bond market improved AFTER a slew of significantly stronger economic data with stocks hitting "all-time highs" on the news .  That's interesting because the quintessential reaction function in the bond market is exactly the opposite!  In other words, stronger data tends to hurt bonds and push rates higher….but not right now.  Investors are pouring money into the Stock Market & The Bond Market.  This makes no logical sense!  You cannot have a roaring economy and an economic recession at the same time!
So why the divergence?  That's a hotly debated topic among traders and analysts currently.  One thought is that markets were prepared to see even better data due to stimulus payments showing up in the Retail Sales report.  The other basic consideration (albeit one that is underpinned by complex nuts and bolts) is that bonds have had such a rough go in the past few months that they were due a bit of reprieve in April.  
Whatever the true combination of motivations may be, the results are a welcome reprieve.  The results are also an excellent opportunity that should not be taken for granted if you're a person who has recently lamented the 2021 rate spike.  There's really no telling how long these sorts of "welcome reprieves" will last, and it's still easier to make a case for gradual upward pressure on rates in the bigger picture.
Here are lockable rates as of this AM: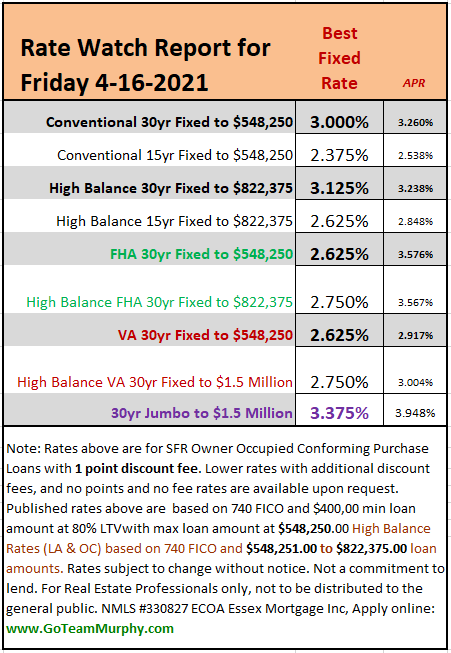 SOURCE & AUTHOR |
Keith Murphy Branch Manager – Essex Mortgage NMLS #330827
Direct: 714-309-1140
Apply: www.GoTeamMurphy.com