New Homes Dominate Real Estate Market in Many Areas
If you are a homebuyer looking for a brand-spanking new house, you're in luck in many parts of the country. The market is now flooded with the most brand-new, single-family houses to hit the market since the Great Recession, according to Realtor.com.
The number of these newly-built homes, 795,000, jumped 7.7% from 2016 to 2017, according to the U.S. Census Bureau report on the 2017 Characteristics of New Housing. Median square foot size was up a bit as well, to 2,426 from 2,422 the year before.
Chief NAR economist Danielle Hale says, "It's good that there's more construction, but there's still plenty of room for more building," who adds that builders seem to be catering almost exclusively to upper-end or move-up buyers. She stresses that there is still plenty of room for affordable homes to be built.
This recent crop of new, larger homes tend to be more expensive than older, existing residences. For example, the median price of a new home was $312,400 in April—compared with $257,900 for an existing home. That's 21.1% more, no doubt due to high land, construction labor, and materials costs.
The overwhelming majority of these brand new homes have three or four bedrooms and 2.5 or 3 baths, and 2-car garages. About a quarter of them have full or partial basements (most notably in states where basements are expected in new homes).
It seems homebuilders are not leaving future maintenance of these (mostly suburban) new home neighborhoods up in the air; in many cases, they are putting homeowners' associations in place from the start. About 487,000 of these new homes were to be governed by HOAs, adding fees on top of mortgage payments, boxing out many first-time homebuyers in the process.
Because of land costs, "Construction is slowly shifting back from the core of metro areas to the outer suburbs. It's because that's where your normal buyers look for houses," says Issi Romem, chief economist at BuildZoom, an online homebuilding and remodeling marketplace. "They're going to be larger than the homes you'll find in the center of town."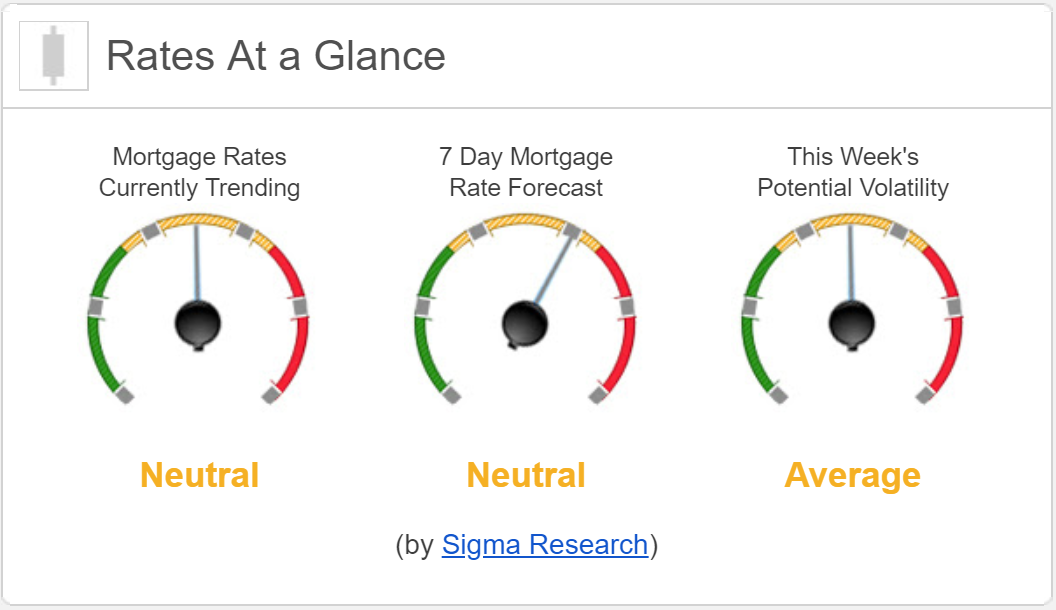 Rates Currently Trending: Neutral
Mortgage rates are trending sideways this morning. Last week the MBS market worsened by -1bps. This was not enough to move rates higher last week. There was a great deal of mortgage rate volatility last week.