Realtor Knowledge and Research are Key When Appraisals Come in Low
Too many young consumers, however, are concerned their credit scores won't make the cut when it comes to financing a home today, and they may be right.
As the real estate market continues to sizzle, driving prices ever higher, it's not unusual for appraisals to be a sticking point. Just because you've asked $300K for your home and got an offer at $320K doesn't mean the appraiser can justify the value all the parties agreed to, however.
There may be limited comparable properties in your neighborhood because no one around you wants to sell. People are simply staying in their homes longer than they used to. So what can you do to make this deal work?
For one, your agent can compile as much market data as possible to challenge the appraisal. While an appraisal is not an exact science, most seasoned appraisers try hard to hit the sales price of the home right on the mark if they have enough data to justify it, so the better your Realtor can state his or her case, the better the chances are that the appraiser will be willing to make a few adjustments.
When an appraisal comes in short of the agreed-to price, however, there are a few reasons for it, including an artificially inflated price resulting from multiple offers. As we mentioned, rising market values due to limited inventory and few comps are a real bugger these days. But an appraiser might also have overlooked a pending sale data that could reflect higher comparable sales when closed. Or the appraiser may have selected comparable sales from the wrong neighborhoods. All of this can be brought to the appraiser's attention by you or your Realtor.
Your agent should have a good feel for what is going with real estate values, having reviewed the comparable sales and listing and can offer information the appraiser might have missed. This includes amenities in those comparable listings that were included or excluded that affected that home's value and ultimately the amount of the appraisal — all of which can affect how they view your listing. In very limited cases, the buyer's lender may send out a second appraisal to get an additional opinion to get things through, because after all — lenders are still in the business of lending money. Their goal is simply to prove to their underwriters that the risk they are taking is justified.
In the case of a low number, the buyer can use the appraisal to negotiate a reduction in the purchase price. That is more common in balanced real estate markets, however. In today's hot bidding environment, another buyer may be willing to buy the home even when the appraisal comes in a bit low by plunking down more cash to make up the difference.
According to the National Association of Realtors 2018 Confidence Index that was published in May low inventory, interest rates, and multiple offers were the major issues affecting transactions, with only 43% of properties sold at original (or net premium) asking prices.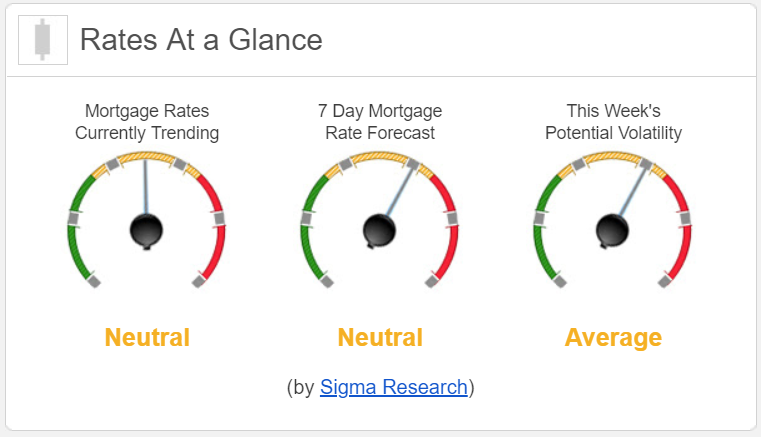 Rates Currently Trending: Neutral
Mortgage rates are trending sideways again this morning. Last week the MBS market improved by +4bps. This was not enough to move rates lower last week. There was very low mortgage rate volatility last week.