Homebuilders Can Take Clues From Their Apartment Builder Cousins
When we think of new home designs, we generally don't think of what apartments look like or live like inside. Two different animals, right? But the truth of it is, although single-family and multifamily builders are not so much siblings as second cousins, there is a lot that is similar about them, according to a recent article in builderonline.com, the website for Builder Magazine.
"Both sets of builders have to buy land, get approvals, and build housing. But then things diverge. Single-family builders sell a house and walk away, while in most cases multifamily builders hold a property and have an ongoing relationship with consumers," writes Frank Anton in his article Modernizing How We Build.
While that may add up to a big difference between the two, what new homebuilders (who have been experiencing a bit of a boom lately but fall WAY short when it comes to affordable housing) don't seem to focus on is that multifamily builders have seen starts quadruple since they bottomed out in 2009, while single-family starts haven't even doubled since hitting bottom in 2010.
"Multifamily builders have done the better job of reaching 25- to 36-year-olds. Yes, they have advantages. Renters don't have to come up with a big down payment nor do they have to qualify for a mortgage, and single people are naturally more likely to rent than buy." says Anton.
Think for a moment about how student debt is like an albatross around the necks of 45 million young people, a third of which have yet to form an independent household and end up staying longer than ever in Mom and Dad's basement. The article cites how for the first time in 40 years (according to the University of Michigan's consumer sentiment survey) that younger Americans are more pessimistic than older Americans. And pessimists are more reluctant to buy than rent, even if they might qualify for a mortgage.
While those negative factors affect the multifamily market as well, it's still outperforming the for-sale market for one simple reason, according to Anton: "Multifamily builders are doing a better job of satisfying younger Americans' housing needs."
He goes on to outline a case in point where a young multifamily developer was describing the success of his most recent development, a 200-unit project in pricey San Francisco, practically offering a blueprint for how single-family builders can crack the first-time buyer market. The builder he describes put up a development in downtown San Francisco, where many young people want to live, but it's not a stretch to believe the concept would work in city-close residential areas. His building has no parking, but if a developer were to put up a similar single-family development in nearby Daly City or San Bruno, perhaps it would offer houses with a one-car garage "or—heaven forbid—no garage," says Anton.
What also attracted buyers was the SF project's design – thoroughly contemporary, which is what the younger demographic prefers. The apartments are minuscule (the smallest unit is only 160 square feet), but homebuilders paying attention to the idea that anyone would be willing to pay a high rent for a closet-sized apartment might want to sit up and take notice of how they might design, perhaps, a 1,200-square-foot house in a suburb within commuting distance and call it good.
Younger renters, as well as buyers, are not like the rest of us, he points out. Harkening back to their college roots, they may be willing to share a compact common area in order to save money, as evidenced by this multi-family builder's design for the larger units in the building.
"The only generous space in the building is a first-floor common area that brings residents together," says Anton. "Single-family builders routinely build clubhouses in retirement communities, so why not clubhouses for first-time buyers?"
Who'd a thunk it would be a study in marketing and design for single-family homebuilders to visit successful multi-family projects to get clues on what younger buyers want? Someone did.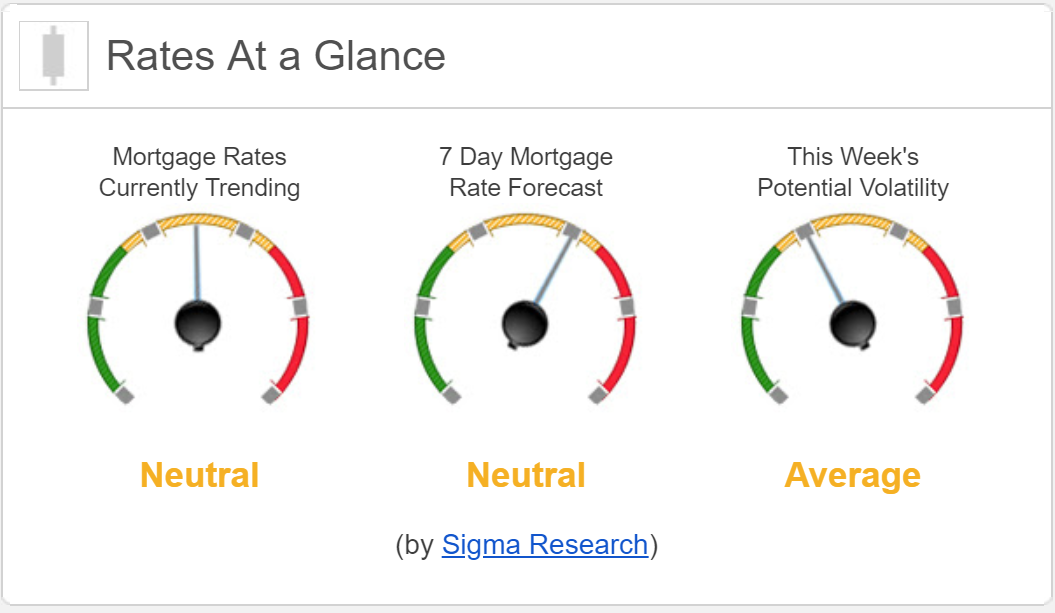 Rates Currently Trending: Neutral
Mortgage rates are trending sideways this morning. Last week the MBS market improved by +7bps. This was not enough to move rates lower last week. There was very little mortgage rate volatility last week.