Homeownership Numbers Healthy But May Be Peaking
Homeownership has been on the rise, according to the latest report by the National Association of Realtors, using the latest U.S. Census figures. "More Americans became homeowners in the spring, and the number of renters decreased, adding to evidence that consumers still aspire to ownership despite ongoing housing market headwinds."
With the national homeownership rate rising to 64.3% in the second quarter (up-ticking from 64.2% in the first three months of the year), it marks the sixth-straight quarter of yearly increases, according to the report.
Younger people have now become the drivers, as was hoped, fueling the biggest jumps in ownership. For those under 35, 36.5% became owners in the second quarter, compared to 35.3% a year ago. Americans aged 35 to 44 saw a correspondingly hefty jump, to 60% from 58.8% in 2017.
The report quotes Sam Khater, chief economist for Freddie Mac. "Homeownership today is a full percentage point below the 50-year average, and this lag reflects the long-lasting scars from the Great Recession and the lopsided nature of this recovery."
Figures also show that in May, sales of previously-owned homes slumped. The NAR, which tracks those sales, pointed to the same culprit it has pointed to for the past few years: a lack of supply.
In a MarketWatch report just out, Chief Economist Richard Moody wrote this in a research note: "Given that we see little reason to expect meaningful relief on the inventory front over coming quarters, we think it reasonable to conclude that we have passed the cyclical peak for existing home sales."
The idea of a downturn, of course, sounds downright scary. The trauma of the last correction is still with us: more than 1.1 million Americans are still underwater, according to experts. In fact, many foreclosures are still making their way through the system as tight lending standards put in place when the pendulum swung hard after the correction continue to lock many Americans out of the market, according to the report.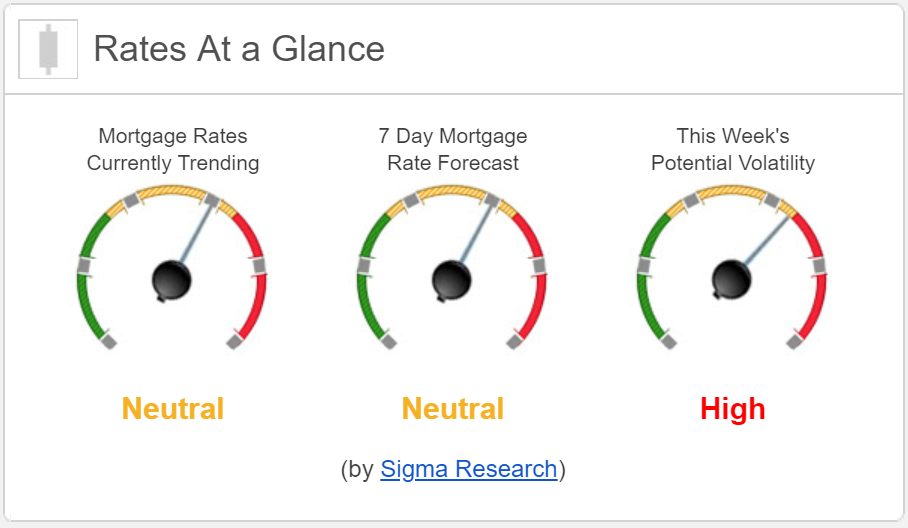 Rates Currently Trending: Neutral
Mortgage rates are trending slightly higher this morning. Last week the MBS market worsened by -17bps. This was enough to move rates higher last week. There was moderate mortgage rate volatility last week.