Home Prices Hold Steady Citing May Report
The National Association of Realtors reported gains in home prices holding steady in May, while a lack of inventory helped prevent an uptick in growth.
According to the S&P CoreLogic Case-Shiller National Home Price Index, average home prices in major metropolitan areas rose 6.4% in May, identical to the year-over-year increase reported in April. An index of 10 cities gained 6.1% over the year, down from 6.4% the prior month. The 20-city index gained 6.5%, down from 6.7% the previous month.
Since August 2016 the annual increase in the Case-Shiller national index has topped 5% each month. Pricing is one of the few strong spots in the housing market due to a low volume of homes being offered, arming sellers with continued pricing power despite slowing sales.
According to the S & P's David Blitzer, rising prices are contributing to a slowdown in virtually every other housing-market indicator—from existing home sales to housing starts to pending home sales, which have lagged behind for six straight months.
"The combination of rising home prices and rising mortgage rates are beginning to affect the housing market," Mr. Blitzer said in the article.
The West is still the price leader. with Seattle reporting a 13.6% annual gain in prices in May compared with a year earlier. Las Vegas followed closely behind with 12.6% and San Francisco saw a 10.9% increase.
Experts are saying that rising mortgage rates are no small factor in the slowed pace of home sales in recent months, potentially having put a slight downward pressure on prices. "Existing home sales have now declined on an annual basis in five of the first six months this year, as rising prices and mortgage rates and a lack of inventory have made it more difficult for would-be buyers to find and afford homes," according to the report.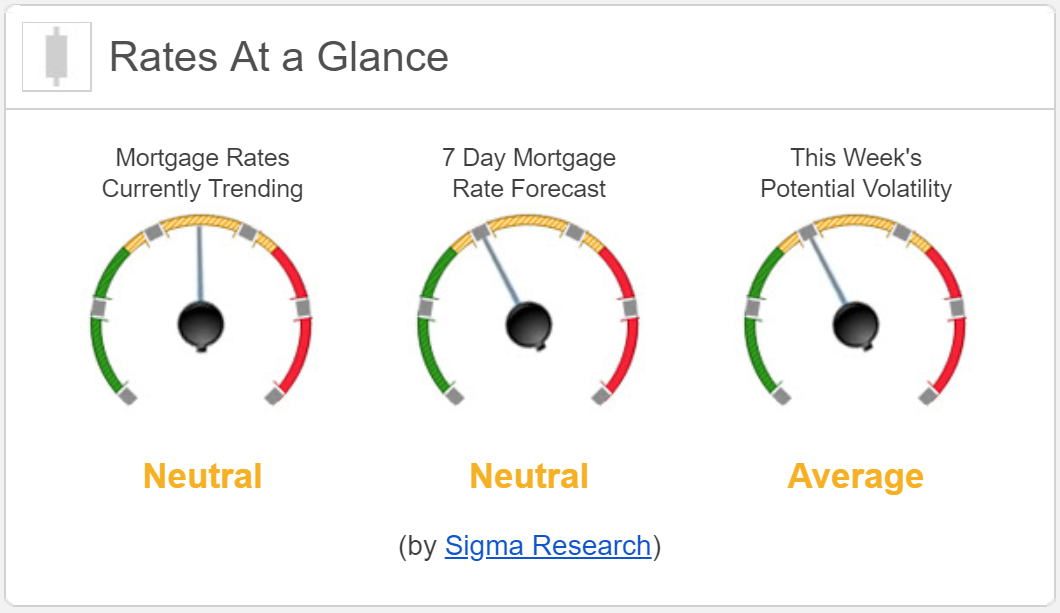 Rates Currently Trending: Neutral
Mortgage rates are trending sideways this morning. Last week the MBS market improved by 11 bps. This was not enough to move rates last week. There was very little mortgage rate volatility last week.