Virtual Staging Provides The Re-Imagination of Any Listing
What if you could make your home-for-sale look professionally staged without removing a single piece of furniture and decluttering a single room? Anyone who knows a bit about digital imagery (or has gone to a movie lately) could picture taking a reality snapshot of a messy home office, then digitally deleting everything in it except the walls. The finished product, after a little artful imagination, is the image of sleek furniture, gorgeous artwork, and luxuriously empty spaces.
Smoke and mirrors? Not really. These days the average time-strapped homebuyer judiciously studies the images contained in any given listing, judging whether it's even worth their time to include it in a home tour. That means anything that can aid them in determining candidate-houses is a step in the right direction.
While most buyers would not purchase a home or a condo without first kicking the tires, technology and the convenience it offers buyers and sellers has changed real estate forever. "The days of starting a home search inside the office or car of a real estate professional and touring five or six houses are long gone," says virtual stager Brian Balduf in a recent Realtor.org article. "Now, interested buyers expect to 'shop' for their new home whenever they want on whichever device they desire and they often spend hours clicking through listings online before ever scheduling a visit. As a result, savvy real estate professionals are using many new tools to help their listings gain an advantage and sell faster."
So how does virtual staging work? "Virtual staging in real estate refers to the virtual photographic tools available to real estate professionals, in partnership with their professional photographer, to showcase a home and its potential. Virtual staging is the most common tool in the virtual real estate drawer and is playing a major role in the marketplace by appealing to prospective buyers or tenants," says Balduf. "Through virtual staging, a professional photographer captures photographs of vacant or lived-in homes and virtually changes a condo's décor and furniture to make a great first impression to buyers or renters searching for their next home."
But what about a furnished house or condo? Any Realtor can tell you that even if a home if occupied, an effort should be made to declutter, remove bulky furniture that tends to make rooms look smaller, and update or re-paint some areas. Virtual staging can digitally demonstrate how pristine and roomy any area of a home can look, giving the owners a chance to showcase the multiple functions of a spare bedroom by virtually (and inexpensively) converting it into office, arts and crafts room, home gym, or man cave.
For real estate professionals, virtual staging can solve some of their biggest headaches — homeowners who owner move out quickly, taking all the "good" furniture and leaving the rest, or filling a vacant room with furnishings without the expense or inconvenience of having to rent tables, chairs, artwork, couches or beds. The savings in time and budget alone are significant when compared to traditional staging costs.
If a homeowner simply will not remove his or her collection of porcelain figurines, religious artifacts, or refuses to de-clutter a wall of bookcases, a virtual stager can magically eliminate all of the current owner's/tenant's personal effects and "chotchkies" from surfaces to present a clean, wide-open look, including changing paint colors, erasing flowered wallpaper or dated paneling, and re-imagining window coverings.
Don't worry. If you're concerned about buyers considering this a bait-and-switch tactic, first remember that many of today's younger buyers not only expect, but delight in the use of technology. That aside, there is a method to how this is all presented. "During showings, to remind buyers of the virtually staged photographs they first saw online, real estate professionals can place the virtually staged photographs on an easel, or offer as a handout so buyers can actually see the potential of a room, rather than imagine it on their own," says Balduf.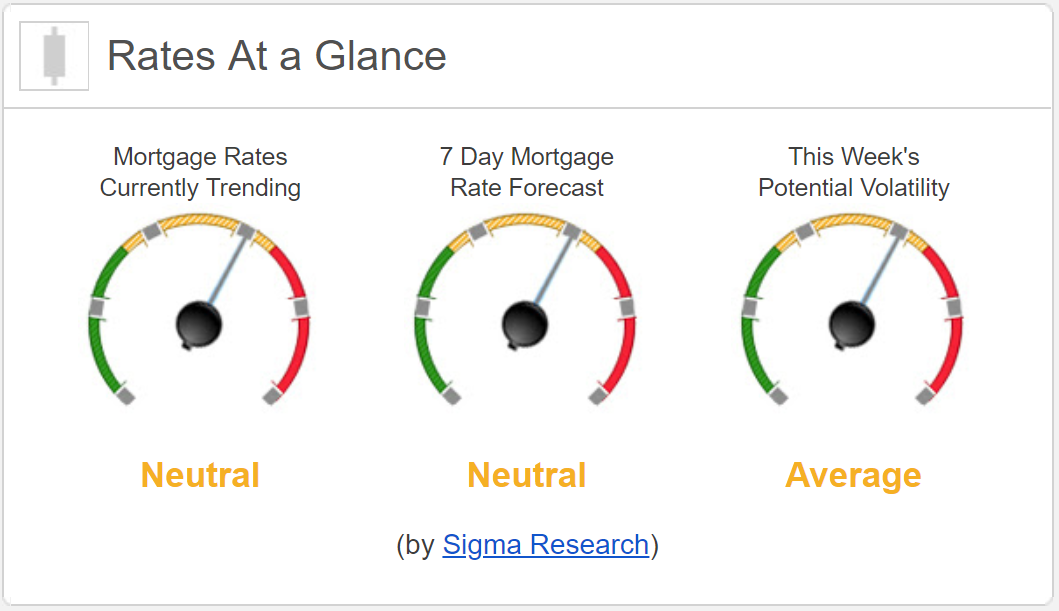 Rates Currently Trending: Neutral
Mortgage rates are trending sideways this morning. Last week the MBS market improved by +13 bps. This may've been enough to slightly improve rates last week. There was very little mortgage rate volatility last week.