Mortgage Rate remain the same today as they were last Friday (see chart below), In week-over-week terms, rates were still decidedly higher at the beginning of the day on Thursday 9-9-2021. It wasn't until the Thursday afternoon's 30yr bond auction that the entire bond market improved enough for mortgage to improve mid-day.
If you want to have your finger on the pulse of daily Mortgage Rate movement just watch the 10yr Treasury Yield and mortgage rates move in tandem. (*remember = mortgage rates move UP/DOWN based on the buying and selling of Mortgage Backed Securities or MBS. It's a supply vs demand equation).
Here is a link you can bookmark to watch the 10yr TSY on your phone: https://www.cnbc.com/quotes/US10Y (the CNBC app is free and easier to watch than via your browser)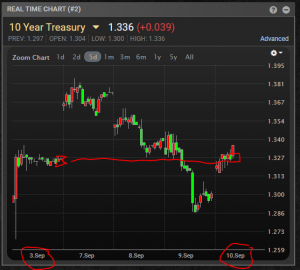 Why do Treasury auctions matter to mortgage rates?  Treasuries and MBS (mortgage-backed securities–the bonds that most directly affect mortgage rates) are both part of the bond market.  They correlate quite well for a variety of reasons (not the least of which being that Treasuries are the risk-free starting point against which every dollar-denominated bond investment is measured).  As such, when Treasuries have a good day, MBS (and thus, mortgage rates) tend to have at least a decent day.  Today (like yesterday) was no exception.
Bottom Line: Rate are most likely to worsen by Monday due to today's Producer Inflation Index accelerated in August as wholesale price ROSE to a RECORD 8.3% from a year ago.  LOCK!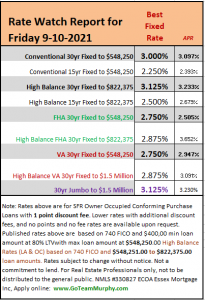 BTW – share the attached flyer with your buyers who are nervous or sitting on the fence.  This class is held EVERY month on Zoom and is FREE!  Ask me about proven best marketing practices Realtor's are using to generate new buyers leads with this class!
Keith Murphy
Branch Manager – Essex Mortgage NMLS #330827
Direct: 714-309-1140
Team Fax: 866-762-0458
Email: [email protected]
Apply: www.GoTeamMurphy.com
RSVP: www.FreeHomeBuyingClass.com
Reviews: https://socialsurvey.me/pages/keith-murphy
Contact Keith's Assistant – Saudy Esparza
Direct: 714-600-6523
Email: [email protected]
"A referral is sending someone you care about to someone you trust!"
In 2020, we received 1.87 referrals every day. Thank You for referring your family & friends to us!