There is a tremendously important development to be aware of.  The net effect is that rates are about to go up and, in some cases, they already have.

The culprit is the new "adverse market fee" announced for all refinances guaranteed by Fannie Mae or Freddie Mac on or after December 1st.  To hit that date, lenders need to be proactive, therefore your clients loan would need to close by 10-31-2020! (the cut off date policy will vary by lender).

The fee will result in rates moving higher by.25% (or in additional closing costs equal to 0.5% of the loan amount).  While that might not sound significant, this is the biggest change of its kind, EVER!  We already had a sneak preview of the fallout when the fee was implemented WITHOUT advance notice in early August.  Rates reacted swiftly before recovering after the fee was delayed. However, the MBS (mortgage bond market) is under selling pressure.  I believe due to this impending government fee that will "devalue" current holding, so bond traders are selling into the news. Not good!

What about purchase loans?  After all, the fee specifically applies to refinances, so purchase loans should be safe, right?  This is mostly true, but not unequivocally.  While the fee won't show up as a separate line item on purchases, some lenders may simply be more conservative when setting their base rates.  Also, consider higher demand for refinances as borrowers rush to lock.  This can increase turn times for purchase borrowers, and longer turn times mean slightly higher rates, all other things being equal.
Bottom Line: the sense of urgency should still be there for purchase mortgages as well as refinance loans. LOCK NOW!
Rates are still amazingly low!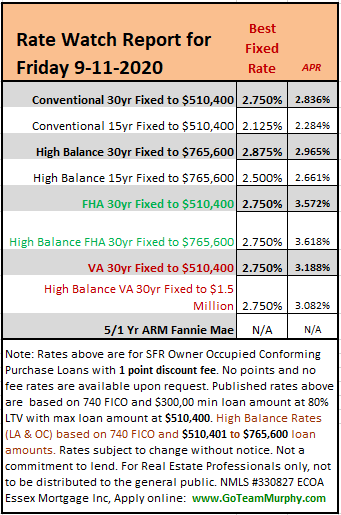 SOURCE & AUTHOR |
Keith Murphy Branch Manager – Essex Mortgage NMLS #330827
Direct: 714-309-1140
Apply: www.GoTeamMurphy.com