Kids set to use math, science and critical thinking skills to build the future homes of America
The U.S. homebuilding industry is always one of those entities that offers a bit of fresh air as it continues to build the homes our children and grandchildren may someday occupy. But how much do those kids know about what goes into building a house, and how valuable might that knowledge be as they go forward in life?
The National Association of Homebuilders (NAHB) believes it's of great importance, and is now partnering with the Department of Construction Science at Texas A&M University and the University of Oklahoma Construction Science Program to create real lessons plans to encourage 5th-8th grade kids' interest in construction careers and at a minimum offer them a practical way to apply math, science, and critical thinking skills.
According to a recent bulletin by the NAHB, "The goals of the lesson plans are to engage the students, fit in a teacher's required curriculum, and be applicable for schools across the United States. Each lesson plan includes a hands-on activity where students apply the math and science principles being taught."
It's amazing how a single lesson plan can cover a wide range of topics that challenge a student's math and science skills, using topics like green building design, home energy consumption, the importance of communication and basic physics and engineering concepts. It also follows that students must also use descriptive words to paint a mental snapshot of how a home will turn out, making it a true vision of home.
The NAHB is encouraging members and local homebuilder associations to review the lesson plans and reach out to local school systems to get the plans into a classroom presentation. "The plans are very detailed and include an overview, a script, handouts and PowerPoint presentations where applicable. We want it to be as easy as possible for a builder to teach a lesson on home building," says the NAHB. In order for building professionals to enter a classroom and teach a class, the lesson plans are written to fit within the specific curriculum that is covered in each grade and to be applicable in as many states as possible.
"The broadest set of education standards are found in the Common Core State Standards Initiative (CCSSI)," the initiative says. "The CCSSI has produced core standards in math and language arts that have been adopted in 48 states. The CCSSI were used for the math lesson plans. For science, the Next Generation Science Standards (NGSS) were used, which have the broadest adoption across states for the science curriculum."
Reaching out to the next generation of homebuilders is always on the minds of building professionals. But even if programs like this serve to enhance students' other core learning skills, it will be well worth it.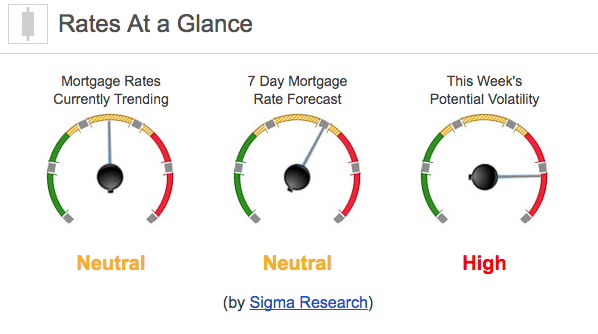 Rates Currently Trending: Neutral
Mortgage rates are trending sideways this morning. Last week the MBS market improved by +35bps. This may've been enough to move rates lower. There was a great deal of market volatility last week.