I'm sitting in the back-yard this morning preparing the weeks Rate Watch and it feels like a Friday morning in Maui! Love this November weather (-:
Mortgage Rates are flat to slightly worse this morning (depending on the product and term) from where we sat last Friday. The bond market was sent into a sell-off Wednesday (see chart below) after CPI hot (inflation!). The market was looking for a .04 increase, which would have been double last month, but instead we got a .06% increase. Until the supply chain repairs itself, we will not likely see much easing here in the near term. What happened was the hot CPI number has investors thinking the FED will have to raise rates soon and perhaps more aggressively. So, while the market has priced in price inflation, this number was way beyond expectations and bonds are sending a strong message to the Fed. The problem is that the yield curve is getting flatter every month and when the FED does raise rates, they run risk of inverting the curve. Each time the yield curve has been inverted, we have been dragged down into recession.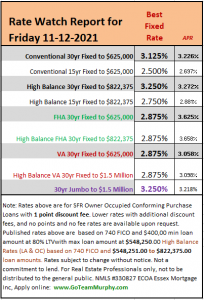 Keith Murphy
Branch Manager – Essex Mortgage NMLS #330827
Direct: 714-309-1140
Team Fax: 866-762-0458
Email: [email protected]
Apply: www.GoTeamMurphy.com
RSVP: www.FreeHomeBuyingClass.com
Reviews: https://socialsurvey.me/pages/keith-murphy
Contact Keith's Assistant – Saudy Esparza
Direct: 714-600-6523
Email: [email protected]
"A referral is sending someone you care about to someone you trust!"
In 2020, we received 1.87 referrals every day. Thank You for referring your family & friends to us!