Mixed bag for buyers and sellers forecast for 2019
It's that time of year when people look back on the past year but also like to take a leap forward, trying to take a peek at what 2019 has in store for real estate. If your dreams include buying your own home, it's wise to keep an eye on the ever-changing tides of the housing market.
In a recent report by the Realtor.com economic research team using a wealth of housing data, here what they came up with as a forecast for 2019 home buyers and sellers—a year not without its potential challenges.
There will be more homes for sale, especially in luxury markets. The persistent super-tight home inventory will get some relief, even though the surge may not be enough to keep up with the demand. According the report, the nationwide inventory actually hit its lowest level in recorded history last winter. This year, however, it finally started to recover with that expected to continue into next year, even if at a mild 7% gain.
While this is welcome news for buyers, sellers will not have it as easy. "More inventory for sellers means it's not going to be as easy as it has been in past years—it means they will have to think about the competition," says Danielle Hale, realtor.com's chief economist. She continues, "It's still going to be a very good market for sellers but if they've had their expectations set by listening to stories of how quickly their neighbor's home sold in 2017 or in 2018, they may have to adjust their expectations."
Pricier markets that typically have strong employment economies will see the most growth, with the biggest increases in high-end inventory in the metro areas of San Jose, CA; Seattle, WA; Worcester, MA; Boston, MA; and Nashville, TN. All of those metro markets, which may include neighboring towns, could see double-digit gains in inventory in 2019.
According to the latest California Association of Realtors (CAR) report, outmigration will also be a primary concern for the California housing market in 2019. "The high housing cost is driving Californians to leave their current county or even the state. According to C.A.R.'s 2018 State of the Housing Market/Study of Housing: Insight, Forecast, Trends (SHIFT) report, 28 percent of homebuyers moved out of the county in which they previously resided, up from 21 percent in 2017. The outmigration trend was even worse in the Bay Area, where housing was the least affordable, with 35 percent of homebuyers moving out because of affordability constraints. Southern California did not fare any better as 35 percent of homebuyers moved out of their county for the same reason, a significant jump from 21 percent in 2017."
Much of the nation is looking for a break for homebuyers, as sellers have had it easy for the past few years, but it's mixed bag. "In some ways, life is going to be easier for home buyers; they'll have more options," Hale says. "But life is also going to be more difficult for home buyers, because we expect mortgage rates to continue to increase, we expect home prices to continue to increase, so the pinch that they're feeling from affordability is going to continue to be a pain point moving into 2019."
Millennials are the biggest generational group of home buyers, accounting for 45% of mortgages (compared with 17% for baby boomers and 37% for Gen Xers). Some are now even buying move-up homes. Slightly older move-up buyers will reap the benefits of both their home equity and the increased choices in the market.
"They're going to be more price-conscious than any other generation," says Ali Wolf, director of economic research at Meyers Research. He cites this because millennials, who typically carry student debt, will want to be able to spend on experiences, like travel, taking away from the funds they can put aside for a down payment or a monthly mortgage payment. "They want to maintain a certain lifestyle, but they still see the value in owning a home." Millennials are likely to make up the largest share of home buyers for the next decade. The year 2020 is projected to be the peak for millennial home buying—the bulk of them will be age 30.
This year is truly a crapshoot for how the new tax law will affect the home buying market, as most taxpayers won't be filing taxes under the new law until April 2019. "And while some people might have a savvy tax adviser giving them a better idea of what's in store," the report says, "for many, the reality check will come in the form of a bigger tax bill—or a bigger refund. "Renters are likely to have lower tax bills, but might not be tempted to buy while affordability remains a challenge, and with the new, increased standard deduction reducing the appeal of the homeowner's mortgage-interest deduction."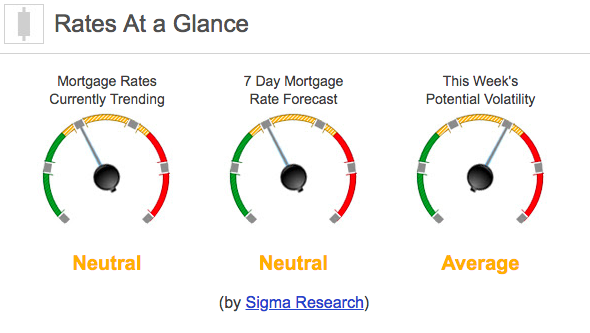 Rates Currently Trending: Neutral
Mortgage rates are trending sideways to slightly lower so far today. Last week the MBS market improved by +39bps. This was enough to move rates lower last week. We saw mostly moderate rate volatility last week.