Mortgage Rates are unable to catch a break from heavy MBS Selling (when bond prices go down, rates go up, and vice versa) This is one of the worst weeks since March.  Since then, only 2 other weeks have been worse and they both occurred in the past month.  In and of itself, the jump in rates wouldn't be too troubling, but when added to the existing momentum, the losses are adding up.
Making matters more frustrating is the fact that there really isn't any great, short-term explanation for the incremental damage.  Negative momentum is simply embedded, and it has been since the Fed signaled its "intent to taper" its bond purchases on September 22nd.  Around the same time, covid case counts began turning a corner in a convincing way.
I wish I had better news, but it would take significant negative developments for the economy or in the covid outlook for things to change.  Help could also come from lower inflation (another key source of concern for bonds/rates at the moment), but that sort of help would take months to materialize and there are no great signs that such a process has even begun.
Bottom Line: It appears rates have only one direction to go moving forward, and that is up.  We are recommending clients LOCK as soon as escrow opens.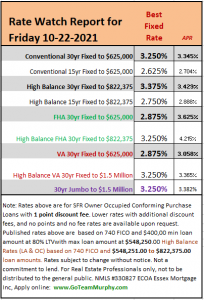 Keith Murphy
Branch Manager – Essex Mortgage NMLS #330827
Direct: 714-309-1140
Team Fax: 866-762-0458
Email: [email protected]
Apply: www.GoTeamMurphy.com
RSVP: www.FreeHomeBuyingClass.com
Reviews: https://socialsurvey.me/pages/keith-murphy
Contact Keith's Assistant – Saudy Esparza
Direct: 714-600-6523
Email: [email protected]
"A referral is sending someone you care about to someone you trust!"
In 2020, we received 1.87 referrals every day. Thank You for referring your family & friends to us!