Happy 4th of July Weekend!
Mortgage Rates are slightly better in the last 5 trading days. Mortgage Rates were deemed to be at risk of getting worse with the release of today's Non-Farm payroll numbers. Market was looking for 700,000 new jobs, and the reading was 850,000.  This number came in HOT!  Rates should be under pressure, because as the economy and inflation heat up, the Fed will have to start raising rates and tapering bond purchases soon.  However, that is not what happened, bond rallied higher with rates improving.  Why would this happen when the Non-Farm payroll numbers beat expectations by such a large number and yet the bond market is happy. Well, if you drill down and think about it, you will see that Hourly Earnings and Average Hourly Work Week both declined and missed expectations!!  This data is a telling us that consumer earnings and buying power are declining.  The bond market is very smart, and I anticipate we will see rates stay low, and maybe even get a little lower next week.
Bottom Line: Recommending clients float this holiday weekend and will review where bond prices stand on Tuesday when the market re opens.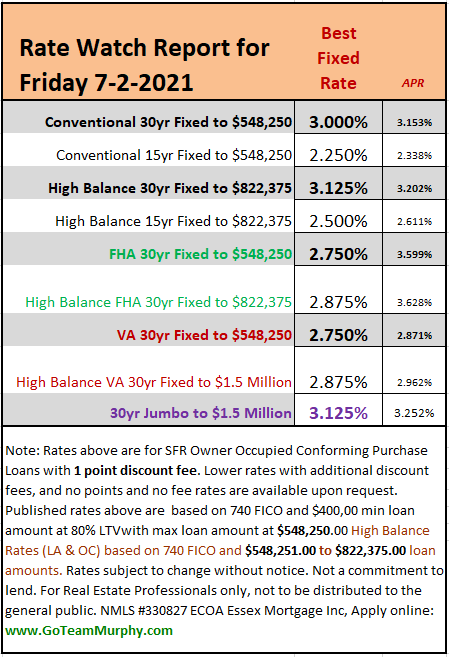 SOURCE & AUTHOR |
Keith Murphy Branch Manager – Essex Mortgage NMLS #330827
Direct: 714-309-1140
Apply: www.GoTeamMurphy.com