Mortgage Rates are in a drift mode, meaning rates have not done much since last Friday. The 30yr MBS Bond closed at 104.78 last Friday and this morning is sitting at 104.81 or drifting. We will need some meaningful negative headline news to move rates lower from these levels. The adverse fee will continue working its way through the industry in the coming weeks. No lender is immune! Once the fee is back in play for every lender, we could see rates relax just a little. This is driven by a level of uncertainty regarding the number of loans that will meet the cutoff date for the fee. Uncertainty costs money. It forces lenders to widen their margins–even if only slightly to hedge against this risk. Once that uncertainty leaves the building, it could be worth a small token. Time will tell.
Apart from those mortgage-specific fluctuations, the broader bond market (which typically dictates mortgage rate momentum) is locked in one of the narrowest, smallest sideways ranges we've ever seen. Some analysts think it could last until the election. While that is a possibility, it's not necessarily something I'd plan on when it comes to locking vs floating.
With the upcoming elections, virus resurgence, China-US trade talk heating up, and stock market volatility, I am recommending clients lock these rates while they are still available.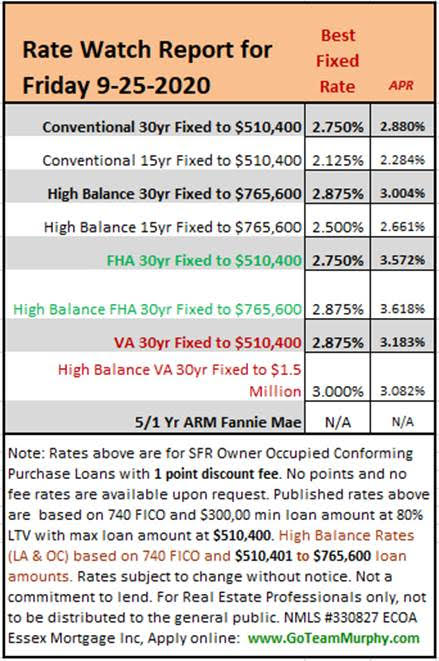 SOURCE & AUTHOR |
Keith Murphy Branch Manager – Essex Mortgage NMLS #330827
Direct: 714-309-1140
Apply: www.GoTeamMurphy.com