March prices: supply and demand for homes don't always match up
Some things don't happen the way they are supposed to. Remember how a housing slowdown was slated to calm things down and stem the tide of bidding wars going on all over the country?
According to a recent realtor.com report by Clare Trapasso, home list prices aren't coming down. Instead, they reached a new all-time high as the busy spring market begins. While median list prices crossed the $300,000 mark for the first time in March, annual price growth had been slowing. Truth be told, that actually is still happening in a few parts of the country. Nationally, however, list prices shot up 7.2% year over year in March, making it significantly more than inflation, which was just 1.5% in February.
"Prices are continuing to rise and they're going to get higher," says Danielle Hale, chief economist of realtor.com. "The same property today that's for sale is more expensive, and we're seeing more higher-end homes for sale. In a slowing market, it's not uncommon to have a gap between list prices and sale prices. It can take sellers a little bit of time to catch up to the reality."
As sellers rushed to list their properties before things changed drastically, causing a rise in inventory. Sellers were trying to capitalize on high prices while many buyers took a pause when prices and mortgage rates simply got too high. "The result?" says Trapasso. "There were price cuts in some of the most expensive markets, and prices didn't climb quite as high as they did in previous years."
The 4% bump in the number of homes for sale in March should have been a boon for buyers, since the greater the supply, the more prices are likely to fall. But when it comes to affordability, buyers are still on the short end of the stick. The number of affordable homes priced at $200,000 and below was down 9% annually, making it harder for first-time and other cash-strapped buyers to become homeowners.
At the opposite end of the spectrum is the luxury market which is, not incidentally where the biggest increase in housing inventory occurred. "There was an 11% yearly rise in the number of $750,000-and-up residences going on the market in March," says Trapasso.
For the rest of us, there is still a beacon of light. Mortgage rates fell on 30-year, fixed-rate loans—giving buyers some much-needed financial relief.
A spot-spot-check on pricing starts at the top: the San Jose, CA metropolitan area saw prices plummeted 12% in March compared with the previous year, even though homes still cost a median $1.1 million at last look. Prices were also down 3% in San Francisco, Dallas, Houston, and Jacksonville, FL; 2% in Nashville, TN, and Austin, TX; and 1% in Miami and Orlando, FL.
"On the other end of the spectrum, Milwaukee saw the biggest jump as median home prices were up 16% year over year in March," says Trapasso. "That's likely due to the shortage of properties for sale as listings were down 8% annually." So it seems that equation does work in some markets.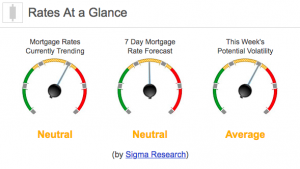 Rates Currently Trending: Neutral
Mortgage rates are trending sideways to slightly higher so far today. Last week the MBS market worsened by -35bps. This was enough to move rates or fees higher last week. We saw good deal of rate volatility at the end of the week.