Car -charging stations raise home prices where electric cars are popular
Need a charge? It seems the latest amenity to boost housing prices even higher these days is close proximity to electric-vehicle charging stations. A recent analysis by realtor.com finds that listings in markets where electric vehicle-friendly housing is popular make homes there sell at a premium.
Forbes Real Estate's Brenda Richardson reports on this phenomenon. "The top 20 housing markets fall within nine states, with a majority of the Zip codes in California. Zip code 92618 in Irvine, California has the most charging stations, 77," says the report, "while the top 20 zip codes have an average of about 30 charging stations each. The combined median listing price for the areas that are most accommodating to electric vehicles is $782,000, 1.5 times higher than their surrounding metro areas and 2.6 times higher than the rest of the country." Realtor.com used data from OpenChargeMap to track 19,743 charging stations mapped across 6,980 Zip codes. Then they analyzed the housing markets of the top 20 areas with the most electric-vehicle charging stations.
"Our data shows there's definitely a link between the prevalence of electric-vehicle charging stations and higher home prices," says Danielle Hale, chief economist at realtor.com. "But there's a difference between correlation and causation. The trend we're seeing in the data is most likely a result of the fact that wealthier homeowners are more likely to purchase expensive electric vehicles. But regardless of the cause, if you're shopping for a home in a zip code with an abundance of electric-vehicle charging stations, you'll likely pay a premium."
From an investment standpoint, nreionline.com's Laura Khouri reports that as multifamily owners and investors look for new and innovative ways to add value to their communities, they are seeing that the continued growth in electric vehicle sale is fueling value to their communities by implementing car-charging stations throughout their communities. Like all other value add amenities, adding car charging stations can assist owners in providing better customer satisfaction, while also creating an opportunity for increased revenue.
"A new amenity, car-charging stations add value for owners and investors in a variety of ways," she says. "First, the charging stations provide the opportunity to increase prospective resident interest in a community, by adding an element to the community that many residents are currently demanding. Secondly, the installation of the charging stations creates an additional revenue stream that will continue to grow with the popularity of electric vehicles."
Source: Forbes, Nreilonline, TBWS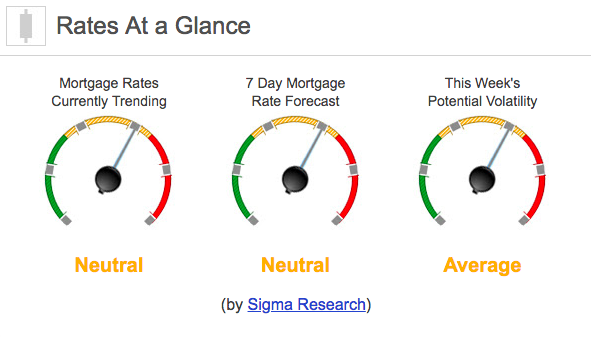 Rates Currently Trending: Neutral
Mortgage rates are trending sideways this morning. Last week the MBS market worsened by -5bps. This was not enough to move rates higher last week. We saw low rate volatility throughout the week.