Good news for home sellers in many parts of the U.S.
t's time to "appreciate your appreciation," if you are thinking of selling your home. Being a homeowner these days just might make you feel like a terribly savvy investor, especially in the western U.S.
Home sellers are realizing a sizable return on their investment according to ATTOM Data Solutions. Those who sold their homes in the first quarter of 2019 made a 31.5% return, pocketing an average gain of $57,500.
"While home seller gains are down from Q4 2018's $60,000, they are still up year over year, when price gains averaged $56,733," ATTOM noted.
The highest home seller returns were seen in San Jose, California (84.1%), San Francisco, California (70.9%), Seattle, Washington (63.1%), Modesto, California (59.7%), and Salt Lake City, Utah (56.5%).
A full 59% of the 129 metros analyzed in the report saw median home prices rise above pre-recession peaks, with the top five highest prices reported in Colorado and Texas, according to ATTOM's data, revealing that all-cash home sales comprised 28% of all single-family and condo sales in Q1, up slightly from 27.7% in the previous quarter but down from the 28.9% observed one year ago.
Across the country, areas with the highest share of institutional investor sales in Q1 were Columbia, South Carolina; Atlanta, Georgia; Charlotte, North Carolina; Memphis, Tennessee; and Las Vegas, Nevada.
"We are starting to see homes sales prices and profit margins softening for the nation," said Todd Teta, ATTOM's chief product officer. "However, home prices are still above pre-recession peaks in 59 percent of local markets, and as the buying season starts to kick into gear, the next few months may provide even more answers to the question of whether a lasso is indeed around the market or if the recent trend is a temporary bump in the ride."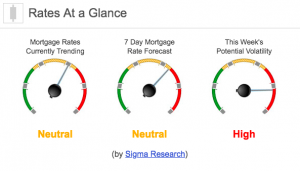 Rates Currently Trending: Neutral
Mortgage rates are trending sideways to slightly higher so far today. Last week the MBS market improved by +29bps. This was enough to move rates or fees slightly lower last week. We saw low rate volatility through most of the week.