Homebuilders see more short term profit in building single-family rental communities
If you can't buy, rent? That's the stigma renters used to tolerate, but no longer. According to CNBC's Diana Olick, demand for single-family rental homes is surging while homebuilders are rethinking how they do business by redesigning and reimagining the sector — and becoming landlords themselves.
"While builders have always sold some of their new homes to investors as rentals, the strong demand has some moving into the space exclusively," says Olick. An example she used is a new housing project in San Antonio, TX, where a builder is creating a gated community of 250 three and four-bedroom homes are renting for anywhere from $1,800 to $2,300 per month. The community includes luxury amenities such as a pool, a fitness center, a community kitchen and party space, as well as a dog park and dog-washing station.
Olick explains how close-quarters condo rentals are no longer the trend, taking the idea of an apartment and going horizontal instead of vertical. While nearly all apartment rentals consist of studios, one and two bedrooms, there are very few three and four-bedroom homes for rent. "We saw a growing need coming out of the downturn, to provide three- and four-bedroom homes to the renter society," said one of the homebuilders she quoted.
A major shift in the demographics is finding homebuilders shifting their thinking as well. "Empty-nesters are done taking care of their homes. They want to downsize, they want portability, mobility in the lease. The millennial household formation, they're not really dialed into taking care of a home, they want to go out and do the same thing that the boomers are doing, which is enjoy life, not work hard for their house," said the builder.
Last year, approximately 43,000 single-family homes were built for rent, the largest number in nearly 40 years according to National Association of Home Builders analysis of U.S. Census data. The built-for-rent share of housing starts is also rising, nearly double its recent historical average (from 1992-2012). This is beginning to answer the need for not only empty-nesters but for millennials as well, who often are not yet in the position to take on a mortgage or simply are choosing not to. Many are not married, have no kids but definitely have dogs, making them gravitate toward renting a home instead of a condo so they can open a back door and let their canines romp.
While homeownership has always been touted as the American Dream, you'd think those earning six figures would buy instead of rent. But that is no longer the case. Many can afford to buy a home but simply decide to avoid the hassle of homeownership. Unlike renters, homeowners are often hit with hidden costs, more responsibility, and fewer amenities than rental dwellers.
With the high costs of land, a labor shortage, and expensive materials, builders are struggling to build neighborhoods of entry-level homes and expect to make a profit — a likely reason for the shift toward rental properties and communities. Big homebuilders like Lennar and Toll Brothers have begun building homes specifically to sell to investors as rentals. They see less risk in the short term in the build-for-rent market.
Source: CNBC, TBWS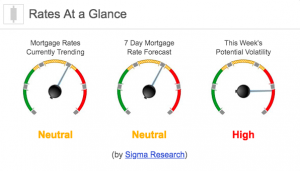 Rates Currently Trending: Neutral
Mortgage rates are trending sideways to slightly higher so far today. Last week the MBS market improved by +19bps. This was enough to move rates slightly lower from historically low levels. We saw high rate volatility at the end of the week.