Home buying heats up as the new decade begins, led by the West
New home sales numbers are coming out as we begin 2020, and they're encouraging ones. According to Realtor's Jacob Passy, the index of pending home sales increased 1.2% in November from the previous month, as reported to the National Association of Realtors.
"The index records transactions that have not yet closed but where a contract has been signed," says Passy. "As a result, the index serves as an indicator for existing-home sales reports in the coming months." This means as compared to November of 2018 contract signings were up 7.4%.
The wild West is where sales increased substantially, bumping the increase to 5.5%, while contract signings only saw marginal changes in the Northeast (down 0.1%), South (down 0.2%), and Midwest (up 1%). When compared with last year, sales were up in all four regions.
Passy says the inventory of homes for sale will remain a challenge, quoting NAR's chief economist Lawrence Yun: "Despite the insufficient level of inventory, pending home contracts still increased in November. The favorable conditions are expected throughout 2020 as well, but supply is not yet meeting the healthy demand."
In the homebuilding arena, most economists expect things to pick up next year, but not enough to fully meet the demand. That means home prices should continue to increase at healthy — if somewhat slower — pace.
"Mortgage rates are anticipated to remain at their current, historically-low levels in 2020, but that may not be enough to make buying a home affordable for would-be buyers struggling to get enough money together to make a purchase," says Passy.
Source: Realtor, TBWS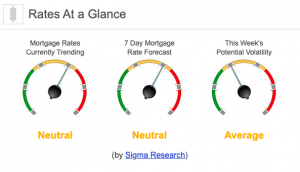 Rates Currently Trending: Neutral
Mortgage rates are trending slightly higher so far today. Last week the MBS market improved by +5bps. This caused rates and fees to remain mostly unchanged. We saw moderate rate volatility throughout most of the week.