Foreclosures down 78% since 2010
To those of us who were homeowners ten years ago, "foreclosure" was a word we heard on the daily news or saw happening in our neighborhoods. It scared many of us. While it's not a topic that is mentioned much anymore, it's good to know that foreclosure filings are down by 78% from a peak in 2010, hitting its lowest level since 2005, according to a new study released by ATTOM Data Solutions.
A reported 77,049 filings were recorded in April, down 7% from March and down a full 23% from April 2016 to the lowest level since November 2005. Foreclosure filings — default notices, scheduled auctions, and bank repossessions — were reported on 624,753 US properties in 2018, down 8% from 2017 and down 78% from a peak of nearly 2.9 million in 2010.
"Plummeting foreclosure completions combined with consistently falling foreclosure timelines in 2018 provide evidence that most of the distress from the last housing crisis has now been cleaned up," said AATOM's chief product officer. He goes on to say that there was also some evidence of distress gradually returning to the housing market in 2018, some of it driven by natural disasters. In Houston, for example, foreclosure starts increased 61%.
However, he said, none of this explains an increase in foreclosures in markets such as Detroit, Minneapolis-St. Paul, Milwaukee, and Austin — all of which posted double-digit percentage increases in foreclosure starts in 2018.
The largest declines, according to the report, were in Rhode Island, Hawaii, North Carolina, Washington, and Connecticut. The largest increases in foreclosure starts included Minnesota, Texas, Michigan, Florida, Louisiana, and Delaware. There was an elevated share of repeat foreclosures on homeowners who often fell into default several years ago but have not been able to avoid foreclosure despite the housing recovery, according to experts.
In its recent analysis, ATTOM studied five markets. It showed the highest share of repeat foreclosures occurred in New York City at 54%, followed by Los Angeles at 39%, Miami-Dade County at 32%, Maricopa County, Arizona at 26% and Essex County, New Jersey at 20%.
Source: ATTOM | TBWS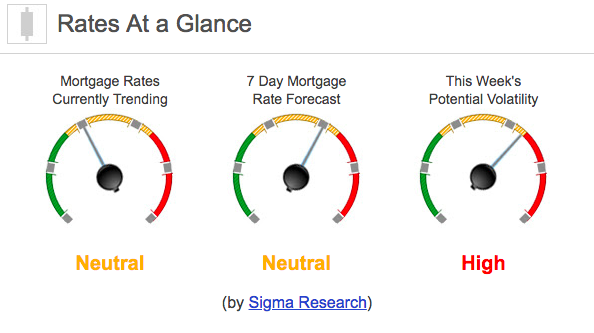 Rates Currently Trending: Neutral
Mortgage rates are trending sideways this morning. Last week the MBS market worsened by -3bps. This was not enough to worsen mortgage rates or fees. Mortgage rates moved sideways all week on very low volatility.