Increased Chinese trade tariffs about to hit home
Builder confidence in the market for newly-built single-family homes remained unchanged in April at a level of 58 on the National Association of Home Builders/Wells Fargo Housing Market Index (HMI).
Trade wars never happen without consequences to those down the line, and the latest increase in Chinese tariffs is hitting both homebuilders and remodelers where they live. Whatever project you have in mind, save a little more to get it done in 2019.
According to CNBC's Diana Olick, from tile to countertops, laminates to lighting (about 450 types of items used in remodeling projects) worth approximately $10 billion a year in expenditures nationwide — are on the list that just went from 10% tariffs to 25%. The additional costs, therefore, rose from $1 billion to $2.5 billion, according to an analysis by the National Association of Home Builders (NAHB).
"The increase is on goods shipped starting last Friday, so the hikes will not hit U.S. shores likely until the start of June," says Olick. "This buys negotiators a bit more time. Still, the tariffs are already hurting the remodeling business." she quotes NAHB's chief economist Robert Dietz: "NAHB's forecast calls for slowing growth, given declining home price appreciation and existing home sales volume, combined with rising construction costs."
Building experts are predicting that because the price of every project is going to go up, there would be no way remodelers could absorb those costs and survive. They estimate a 7-8% increase to the consumer no matter how they try to tweak it.
This comes as a double-whammy, with the homebuilding industry already struggling with a labor shortage. Nearly three out of four remodelers this year reported higher prices for customers due to higher costs for labor, according to a new survey from the NAHB.
"Higher costs for both materials and labor are causing some consumers to reconsider their renovations," says Olick. "Case said the size of the average project went down dramatically last year, as consumers tried to cut the budget." Increased tariffs in 2019 will only make it necessary to budget more before tackling your home remodeling dreams.
Source: CNBC, NAHB, TBWS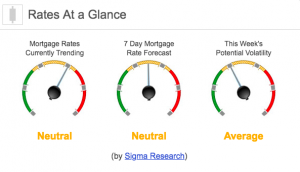 Rates Currently Trending: Neutral
Mortgage rates are trending sideways to slightly higher this morning.  Last week the MBS market improved by +20bps.  This may've been enough to move rates or fees slightly lower last week. We saw moderate rate volatility throughout the week.