Mortgage Rates have improved significantly in the last 24 hours! Here is a puzzler! Yesterday morning the bond market sold off (bond prices falling = rates rising) due to THE ADP report that showed 85,000 MORE JOBS created in Dec that estimated + new unemployment claims DROPPED by 20,000. This tells market that Fed will need to tighten more and for longer, therefore, MBS was down -34 bps on the day.
Today, MBS has made up all those losses and added +83 bps of gains based on the release of today's stronger than expected non-farm payrolls at 223K vs forecast of 200K. In addition, the unemployment rate dropped to 3.5% vs forecast of 3.7%. Like yesterday's ADP read, these numbers show resilience in the economy and will make the Fed's mandate of taming inflation even harder. However, the market focus is turning a blind eye to this and instead focusing on Wage Growth. You see, wage growth slowed and last month's HOT number was also revised downward, which the "market" believes gives the Fed cause to pivot.
Fed Chairman Powell has made it very clear that until inflation is at 2% (currently 7%) and unemployment hits 5%, they will not pause or pivot regardless of what higher rates do to the markets or the economy.
Bottom Line: I believe today's drop in rates is opportunity to lock!
Here are lockable rates as of 8:30am: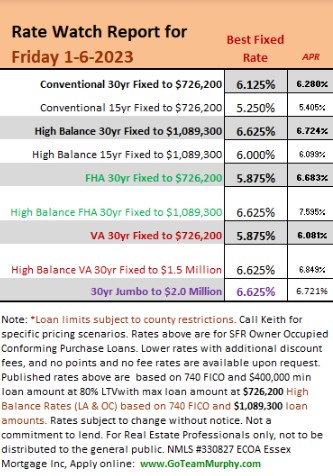 SOURCE & AUTHOR |
Keith Murphy Branch Manager – Essex Mortgage NMLS #330827
Direct: 714-309-1140
Apply: www.GoTeamMurphy.com