Mortgage Rates are hitting their lowest point in 4 months after inflation data yesterday! As of late, the bond market's job description seems to be entirely focused on reacting to CPI data, and then waiting for the next one, completely discounting the Fed into the mix?  This tread is GOOD for mortgage rates and our impending Spring Selling Season which is just around the corner.
I believe as rates get into the 5% range (we are there!!), many of the sidelined buyers will be re entering the market.  With record low inventory (who wants to sell their home when they have a fixed rate at 2.25% – 2.75%) the buyers are going to face stiff competition again.  I also believe the media's promotion that the US real estate market "bubble" is ready to pop is hogwash!  You cannot get price depreciation when you have NOTHING for sale.  It's basic Econ: 101 or the Law of Supply & Demand.
Bottom Line: get your team and business processes ready, because I believe there will be an uptick in buyer interest very soon!
Now, check out these rates!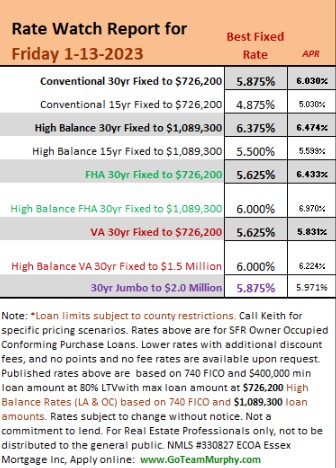 SOURCE & AUTHOR |
Keith Murphy Branch Manager – Essex Mortgage NMLS #330827
Direct: 714-309-1140
Apply: www.GoTeamMurphy.com