Mortgage Rates are flat from last week, and this morning there is heavy selling pressure pushing bond prices down, which pushes rates up.  We have not seen reprices yet, but there are most likely coming soon.
We have some headwinds to be cautious of right now with Washington D.C. gridlocked on raising the debt ceiling.  This has created some fear/uncertainty for a possible US default on debt (if you were China or Japan and you held trillions in US TSY debt, and you thought this was a real possibility, would you sell your holdings and recapitalize, or let it ride?)  This appears to be where most of the selling pressure is coming from today.
Bottom Line: Rates are basically flat from last week, but would LOCK now and protect.
Here are lockable rates as of 10:00am PST: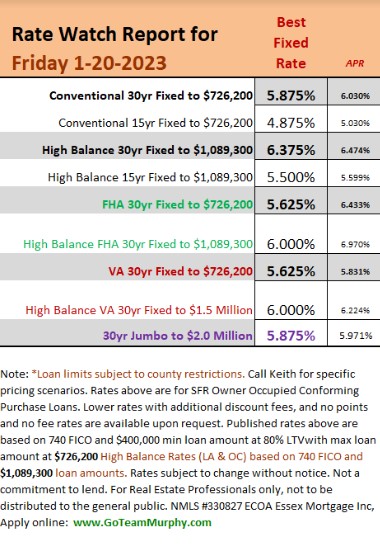 SOURCE & AUTHOR |
Keith Murphy Branch Manager – Essex Mortgage NMLS #330827
Direct: 714-309-1140
Apply: www.GoTeamMurphy.com