Mortgage Rates this week are pushing higher! In January, it looked like there might be some reprieve for high rates and slumping sales. But then February happened! A series of economic reports caused an immediate renewal of fear over the inflation outlook, and again, inflation is the key input for rates right now.
Today the January PCE inflation numbers came out hotter than expected, rising back to the highest month-over-month levels in decades! This paints a very different picture for Powell and the Fed, and markets are now anticipating they will hike "again" in March some 25 – 50 bps.
This narrative does not bode well for mortgage rates. Just when it seemed that inflation was coming down, the data shows otherwise. Mortgage rates are now marching towards 7% again….uugghh!
Bottom Line: Renters still believe in the home buying process as evidenced by The U.S. Census Bureau and the Department of Housing and Urban Development showing sales of newly constructed single-family homes were at a seasonally adjusted annual level of 670,000. This was up 7.2 percent from December's rate of 625,000 units and the best performance since last March!
Here are rates for Friday 2-24-2023: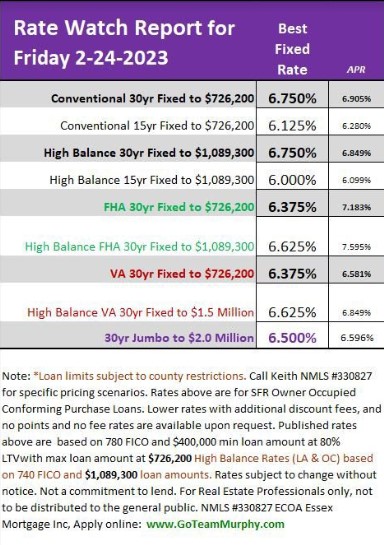 SOURCE & AUTHOR |
Keith Murphy Branch Manager – Essex Mortgage NMLS #330827
Direct: 714-309-1140
Apply: www.GoTeamMurphy.com