Mortgage Rates have been on a wild ride over the course of the past 3 days. It started on Wednesday when the market hedged and positioned for Thursday's rate announcement which resulted in a ¼ rate hike, putting the US Prime at 8.0% (last time Prime was 8% was 22 Years ago on 3-21-2001)
Normally this rate hike would push mortgage rates higher, but Chairman Powell hinted that the stress in the banking system could do much more to tame inflation than further rate hikes = the market LOVED this narrative and Bonds improved due to a flight to safety in the broader market. In other words, investors sold riskier assets like stocks and bought safer assets like bonds. Excess bond buying results in lower rates, all other things being equal.
Could the improvements continue? That depends on what you're willing to sacrifice for them. In the current case, the price of lower rates would likely be more bad news for the banking system. While nothing catastrophic happened on that front today, the market remains a bit nervous about the prospect of more unexpected drama.
Bottom Line: in the short term, mortgage rates should continue to improve in the coming days.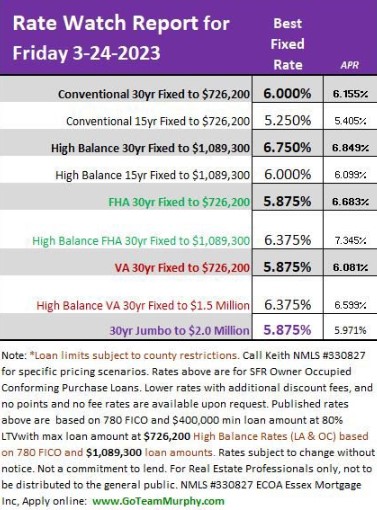 SOURCE & AUTHOR |
Keith Murphy Branch Manager – Essex Mortgage NMLS #330827
Direct: 714-309-1140
Apply: www.GoTeamMurphy.com