Mortgage Rates put in a solid performance so far this week with substantial declines to the lowest levels in months of yesterday 4-6-23. (look at those rates below!!!)
Today, the stock and bond markets close early, which was not ideal considering the highly anticipated Jobs Report released this morning. Officially known as "The Employment Situation," the jobs report is the single most important piece of scheduled economic data for interest rates on any given month. During times of higher inflation, it can share the crown with the Consumer Price Index (CPI), but that typically just means we have two really important reports in close proximity (CPI is next Tuesday) rather than one dominating the other.
Today's Jobs Report showed 236,000 jobs. Market estimates were for 239,000 jobs, so close!
However, this was NOT good for Mortgage Rates as market sees this tame number as a reason The Fed will cut rates soon () which means stocks went up and so did rates.
Bottom Line: for now, mortgage rates are significantly lower than 4 weeks ago, so perfect timing for the busy Spring home buying season!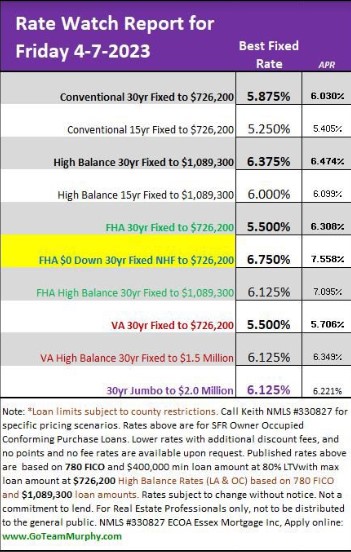 SOURCE & AUTHOR |
Keith Murphy Branch Manager – Essex Mortgage NMLS #330827
Direct: 714-309-1140
Apply: www.GoTeamMurphy.com