Mortgage Rates are lower this week!
But not according to multiple news outlets! If you or your clients are reading the "current" news headlines, you'd be left with the impression that this week's rates are higher than last week's.  Unfortunately (or perhaps, fortunately, in this case), all of the above would be incorrect.
Rates are actually lower today compared to last week.  (check out our High Balance and Jumbo Pricing which has seen the most improvement)
So what's with the misinformation in the aforementioned headlines?  It's not intentional.  It's a byproduct of the news media's tendency to quote the weekly Freddie Mac survey.  The survey is a week old and thereby stale by the time it is ultimately released.  That usually doesn't cause an issue, but when rates are volatile, the survey can be quite different from reality.  Today is just another one of those days in what has been an exceptionally volatile 2022. 
Bottom Line: Not sure how long this relief rally will last, but for now recommending clients LOCK as soon as escrow opens to take advantage.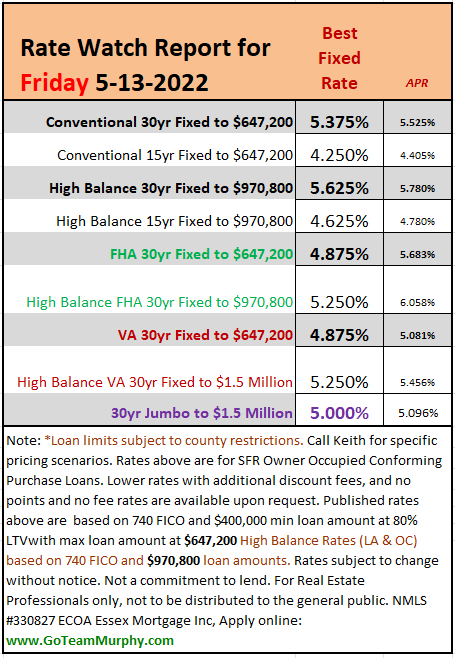 SOURCE & AUTHOR |
Keith Murphy Branch Manager – Essex Mortgage NMLS #330827
Direct: 714-309-1140
Apply: www.GoTeamMurphy.com