Mortgage Rates are now at 2 Month Highs!  Specifically, in the last 5 trading days, the10yr Treasury Yield has risen from 3.478% to 3.699% while MBS Coupons have lost 88bps pushing mortgage rates .25% to .375% to rate higher (depending on product type).
Most of this move comes from investors moving to a risk-on position (which simply means selling safe haven bonds and buying stocks) which is why we are seeing a massive rally in the stock market.  This week, investors believe the Fed has completed their rate hike cycle and the debt ceiling debacle will be resolved on Capitol Hill next week.
That being said, this morning Republicans walked out of debt ceiling talks, saying the White House isn't being "reasonable" and currently Fed Chair Powell is speaking LIVE and says rats may not have to rise as much as expected to curb inflation (sounds to me like they are not finished hiking rates).  With job growth increasing, initial jobless claims decreasing, and the consumer spending like "drunken sailors" in all categories (retail, apparel, travel, hotel, housing, etc.) as evidenced by current quarter earnings reports and consumer debt surpassing $17 trillion for the first time ever!
https://www.cnbc.com/2023/05/15/consumer-debt-passes-17-trillion-for-the-first-time-despite-slide-in-mortgage-demand.html
Bottom Line: rate volatility is simply part of the narrative right now, so expecting more of the same until the debt ceiling crisis is solved.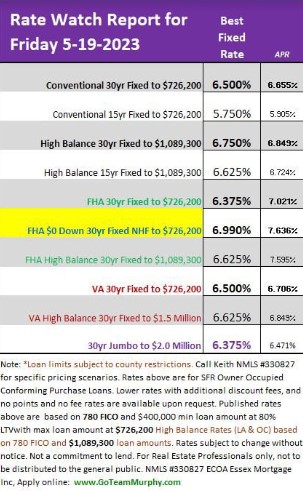 SOURCE & AUTHOR |
Keith Murphy Branch Manager – Essex Mortgage NMLS #330827
Direct: 714-309-1140
Apply: www.GoTeamMurphy.com