Mortgage Rates and bond market volatility has been extreme, this week made everything else look tame by comparison.  While it will never show up in weekly survey numbers, the 3-day jump between last Thursday and this Tuesday was one of the biggest on record, taking the average 30yr fixed quote from 5.55% to 6.28% by yesterday afternoon.  The pace of that spike is nothing short of staggering considering 5.55% was already near their highest levels in more than a decade.
The drama began with last Friday's Consumer Price Index (CPI), a key inflation report that showed prices rising faster than expected. Inflation is biggest concern for the Fed at the moment, and the biggest reason for their increasingly aggressive efforts to push rates higher in 2022.
CPI alone wouldn't have been worth this much drama were it not for the looming Fed announcement on Wednesday afternoon.  Further complicating matters was the fact that the Fed refrains from public comment on monetary policy in the 12 days leading up to a policy announcement. In other words, markets were flying blind as to what the Fed's response might be to the CPI data, and imaginations ran wild.
On Wednesday, The Fed raised the Fed funds rate by 75bps and observers would "think" this would drive rates even higher but it did not?  Mortgage Rates and Treasury Yields actually improved after the announcement, albeit ever so slightly.
This question speaks to a popular misconception about the Fed and mortgage rates.  In short, when the Fed hikes rates, it does NOT mean that mortgage rates go higher (except for the small contingent of loans that are actually tied to an index that moves with the Fed Funds Rate).  In fact, it frequently means that rates move lower.  
Why would a rate hike lead to lower rates?
The short answer is that the bond market (which dictates mortgage rates) has almost always already adjusted for the rate hike ahead of time.  By the time the Fed actually hikes, it's old news to the market, and there's a sense of relief as traders have one less uncertainty to deal with.
Looking ahead there are plenty of economic headwinds to contend with, therefore locking is recommended as soon as escrows open.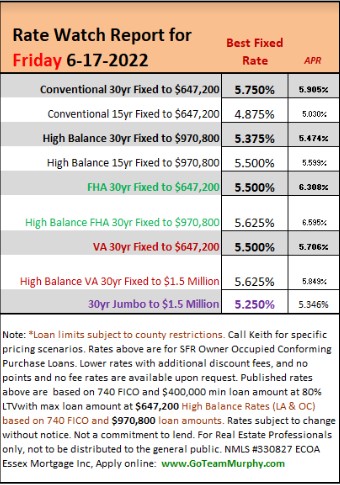 SOURCE & AUTHOR |
Keith Murphy Branch Manager – Essex Mortgage NMLS #330827
Direct: 714-309-1140
Apply: www.GoTeamMurphy.com