Mortgage Rates are having their best winning streak since late July in terms of consecutive days spent moving lower. 
All that having been said, the length of the winning streak doesn't matter too much.  It certainly isn't the largest drop in rates over a 5 day time frame (late July saw more movement in fewer days, in fact).  The consistency merely suggests a potential shift in the overall tone from unequivocal panic to something more balanced–a shift that would mirror comments from a Fed speaker last week as well as a widely-cited Wall Street Journal article suggesting the same.
None of this is to say that bonds/rates are moving purely based on emotion and anticipation of a softer stance from the Fed.  Certainly the Fed expectations account for some of the friendly momentum enjoyed by rates this week, but in today's case, there were a few supporting actors.  These included a European Central Bank announcement that was slightly friendlier than markets were expecting as well as a few clues in economic data that suggested Fed policies were beginning to have an impact.
Bottom Line: reminder that Fed meets to raise rates on 11-2-2022.  Recommending clients lock ahead of this coming announcement!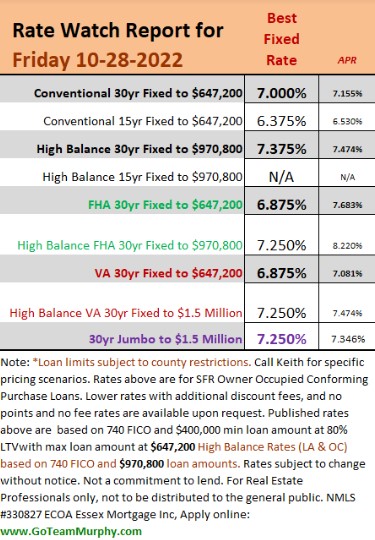 SOURCE & AUTHOR |
Keith Murphy Branch Manager – Essex Mortgage NMLS #330827
Direct: 714-309-1140
Apply: www.GoTeamMurphy.com