Mortgage Rates are moving higher after Chairman Powell raised the Fed Funds rate by another 75bps on Wednesday 11-2-2022.  Now, while raising the Fed Funds rate does not have a direct impact on Mortgage Rates, it DOES have an "indirect impact".  You see, The Fed Funds Rate (the thing the Fed "hikes" when you hear about the Fed hiking rates) applies to overnight loans among large financial institutions.  It's important, to be sure, but it only changes 8 times a year whereas securities in the bond market change every second of the day.  These hikes DO have a direct impact on Credit Cards, Home Equity Loan, Car Notes, and most importantly the interest cost of Commercial and Corporate Debt.  These higher cost slow down the economy which then assets (stocks and bonds) will sell off.
On Wednesday, both stocks and bonds sold off on that news (when bonds sell, it implies higher rates, all other things being equal).  Most mortgage lenders issued mid-day rate increases.  There was a mini rally yesterday giving myself and others a glimmer of hope that Mortgage Rates were reversing trend, but today we are back to selling )-:
In conjunction with this market weakness (selling is continuing today), was enough to make for a reasonably big up increase in the prevailing rate.  The average lender is getting close to the recent 20yr highs from a few weeks ago when the average conventional 30yr fixed rate was 7.37% (7.30% today up from 7.09% just 2 days ago).
Bottom Line: lots of market volatility and heavy selling means rate may continue to climb in the near future.
Here are lockable rates as of today: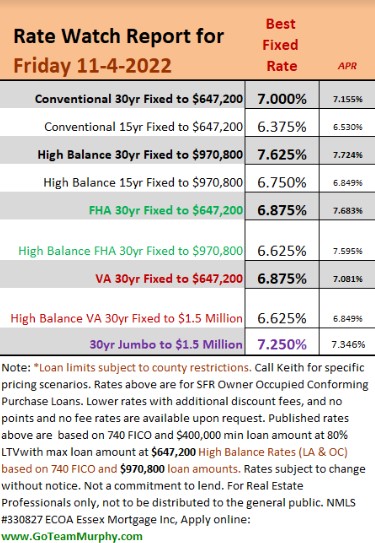 SOURCE & AUTHOR |
Keith Murphy Branch Manager – Essex Mortgage NMLS #330827
Direct: 714-309-1140
Apply: www.GoTeamMurphy.com