Mortgage Rates drop to 3 months lows!
Mortgage Rates are primarily based on the bond market (specifically, mortgage-backed securities or MBS).  When MBS improve, lenders are creating loans that are worth more money and can thus offer them at lower rates.  Supply, demand, etc.
In the last 72 hours,  rates have improved by more than would be suggested by the improvement in MBS, so there's clearly something else going on as well.  In today's case, it's quite simply the mortgage market's sigh of relief after having moved through the week's riskiest events (inflation data on Tuesday and the Fed announcement on Wednesday).
It's a familiar song and dance.  This time around, it coincided with MBS at their best levels in more than 3 months and mortgage rates were quickly able to make the same claim.  The average conventional 30yr fixed rate is moving into the low 6% range for top tier scenarios. 
Bottom Line: The last time rates were this low was during the first few days of September. If technical hold up, we should see rates in the 5% range in the next 30-45 days which I believe will create a massive re entry into the housing market!  Time will tell…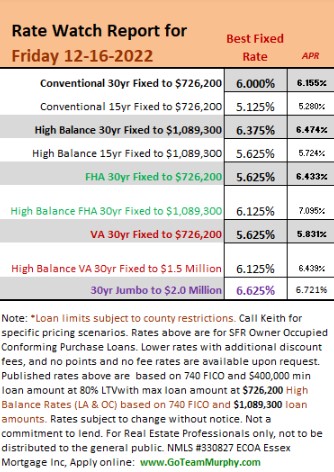 SOURCE & AUTHOR |
Keith Murphy Branch Manager – Essex Mortgage NMLS #330827
Direct: 714-309-1140
Apply: www.GoTeamMurphy.co