Mortgage Watch Report 12/30/22
Mortgage Rates have risen this week as Mortgage Bond (MBS) prices fall in light trading and with yearend tax selling.  Stock market is selling off this week for the same reasons. This type of volatility is typical and can be good or bad for bonds & the stock market.  Today's final trading day (Market closes early at 11:00am) is shaping up to be bad, with the help from stronger Chicago PMI data with actual coming in at 44.9, traders were looking for 40.0 (10+% beat) with previous read at 37.2.
Chart below shows 30yr MBS coupon has lost 78bps since Monday which equates to .375 to .50% higher rates since last Friday.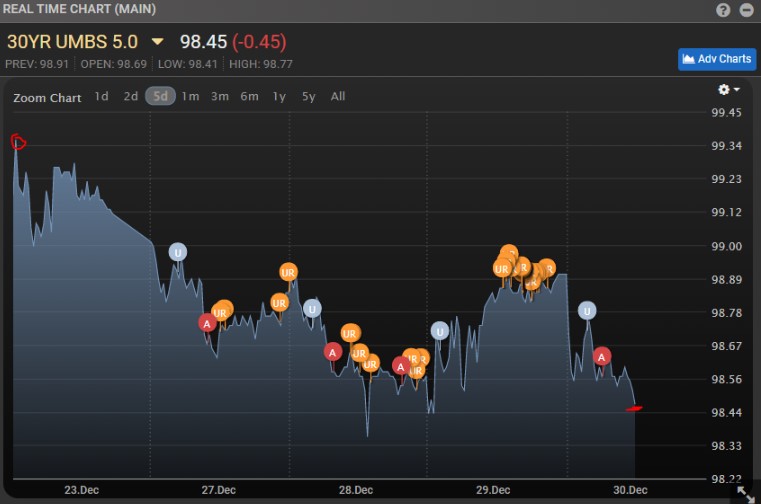 Bottom Line: Expect markets to reposition this downward trend when markets re open on Tuesday January 4th of 2023.
Here are lockable rates today: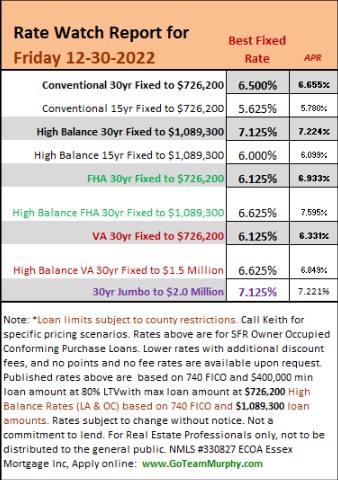 SOURCE & AUTHOR |
Keith Murphy Branch Manager – Essex Mortgage NMLS #330827
Direct: 714-309-1140
Apply: www.GoTeamMurphy.com