Mortgage Rates are improving today with a stronger than expected Jobs Report, including BIG positive revisions to the past few months data and "another" drop in the unemployment rate.  All of these data point would "typically" be bad for mortgage rates, this new is actually improving rates.  All of this comes after Wednesday's Fed Announcement confirming that Tapering will begin this month with a 15 billion dollar curtailment with intentions to be completely out of the bond market in then next 6 months.
With less demand (few buyers aka Fed Taper) and significantly improving economics, and a stock market that it roaring, this would all point to higher rates…but the market is seeing something else. At times, when the news that we all fear "like tapering" is formally out, the market rallies. This happens because traders stay ahead of the curve and began pricing in the move well in advance of anyone else thinking about it. However, traders do not like surprises so they often over compensate, which leaves room for price to move up, once the news becomes official.  I believe this is what is happening in the capital markets right now.
Bottom Line: Rates are improving! Here is what is a snip of what is lockable right now: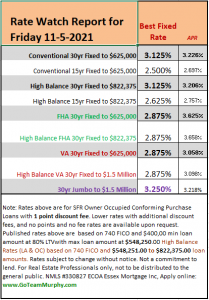 Keith Murphy
Branch Manager – Essex Mortgage NMLS #330827
Direct: 714-309-1140
Team Fax: 866-762-0458
Email: [email protected]
Apply: www.GoTeamMurphy.com
RSVP: www.FreeHomeBuyingClass.com
Reviews: https://socialsurvey.me/pages/keith-murphy
Contact Keith's Assistant – Saudy Esparza
Direct: 714-600-6523
Email: [email protected]
"A referral is sending someone you care about to someone you trust!"
In 2020, we received 1.87 referrals every day. Thank You for referring your family & friends to us!