Mortgage Rates have been under some selling pressure (meaning rate/pricing rising) ever since election results, positive news on COVID vaccine from Pfizer, and the 60 Minutes story last Sunday 11-8 on the Fed's Operation Warp Speed (must watch on YouTube by the way…) all sent stocks higher, and bonds saw heaving selling, in fact, the 10yr Treasury yield was up 30% in 3 trading days!
However, on Wednesday the markets started to realize that economic recovery is NOT happening overnight, nor will we eradicate the virus in the near future (duh…right?).  As a result, Thursday and Friday were VERY GOOD to the bond market as capital flowed back to the save haven of Treasuries and Mortgage Backed Securities.
BOTTOM LINE: I expect a lot of volatility in the markets over the coming days, weeks, and months, so advising clients if you LIKE IT, LOCK IT!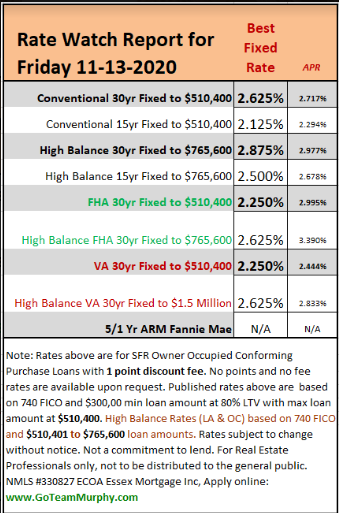 SOURCE & AUTHOR |
Keith Murphy Branch Manager – Essex Mortgage NMLS #330827
Direct: 714-309-1140
Apply: www.GoTeamMurphy.com