Mortgage Rates are rising and before we get into the WHY let's remember that we are STILL sitting at the lowest end of the rate cure in American history!  These rates are still amazingly low and should not be taken for granted.
If you are a regular reader of my weekly Rate Watch Report, then you know rising rates has been the narrative for months now, but the drama kicked into high hear this week. So why is all this happening?  And more importantly, is it going to KEEP happening?
First off, two separate things are happening.  On the one hand, we have the well-known, well-understood, and well-explained rising rate trend that's been intact for months.
In a nutshell, if Covid caused a rapid surge to persistent all-time low rates, the improving outlook had the opposite effect–albeit a gradual one at first.
The other thing that's happening is a recent acceleration in the longstanding trend–first in 2021, but then to an even greater degree over the past 2 weeks. Plummeting case counts played a big, logical role here as well as the Georgia senate election and progress on fiscal stimulus.  Stimulus hurts rates by increasing the supply of Treasuries, and higher supply means higher rates, all other things being equal.
The big question is whether the drama continues, or the bounce back is just the beginning of a deeper recovery.  While there's never any way to know for sure, what we CAN know is that our odds (of a recovery) improve as rates move higher.  In that sense, the brutality of the past 2 weeks is one of the best indications of potential support.  While that doesn't necessarily make a friendly bounce likely, it's more likely than it was after last week's big rate spike.
Optimism aside, keep in mind that this is a rising rate environment in general, and we don't currently have a reason to believe that trend is at risk of dying.  What we'd be hoping for here is a return to a more stable uptrend in rates.  That "return" could help rates move a bit lower in the short term before resuming their gradual uptrend.  Ultimately, it will be up to the course of the pandemic, the economy, fiscal spending, Fed policy, inflation, and other macroeconomic factors to determine the rate range through the end of the year.
Next week brings important updates as far as economic data is concerned.  There will be several reasonably important reports throughout the week culminating in Friday's all-important jobs report.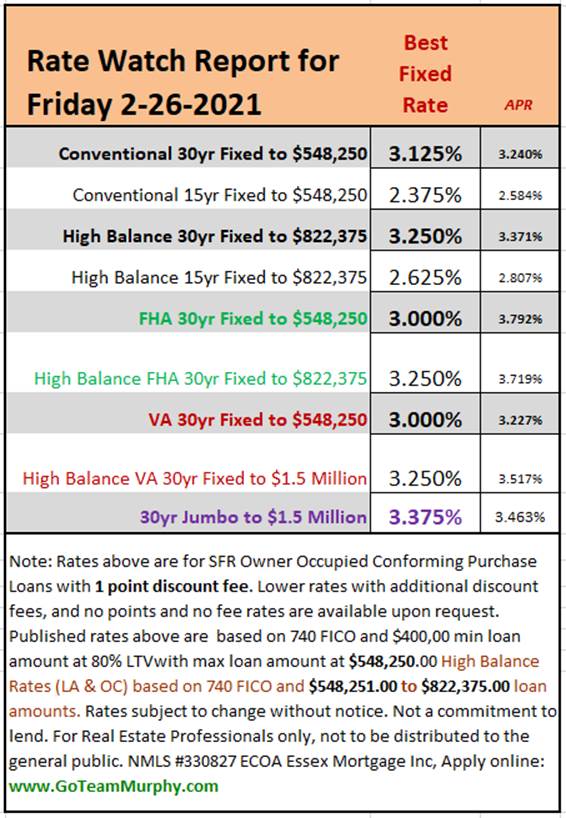 SOURCE & AUTHOR |
Keith Murphy Branch Manager – Essex Mortgage NMLS #330827
Direct: 714-309-1140
Apply: www.GoTeamMurphy.com