Mortgage Rates improved microscopically this week as the underlying bond market remained calm.  Since the beginning of 2021, bonds have been exceptionally volatile with yields moving higher and prices moving lower.  That's a recipe for higher interest rates–something that was painfully obvious in February when the average mortgage lender jumped by half a percentage point in conventional 30yr fixed rates.
The big question is whether rates are truly leveling-off for an extended period of time or merely pausing for a few days or weeks before continuing higher.  Sadly, those questions can't be answered until the market shows its next move, which brings me to this morning.  Currently, the 10yr TSY yield had moved above 1.630% in a HUGE move upward, with MBS selling off (this means higher rates likely today).
Bottom line: this market is too unstable to float and hope for any significant improvement. I am advising clients to LOCK as soon as escrow opens!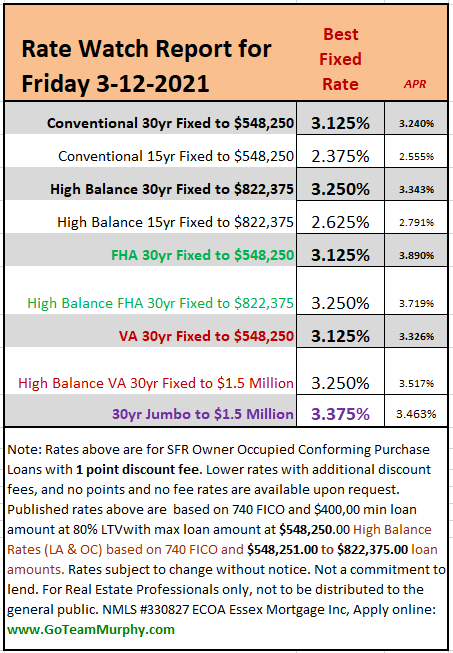 SOURCE & AUTHOR |
Keith Murphy Branch Manager – Essex Mortgage NMLS #330827
Direct: 714-309-1140
Apply: www.GoTeamMurphy.com