A Powerful Market
With a low supply and extremely strong demand, the Expected Market Time is at its lowest level to start October since tracking began in 2004.
Lighthouses are built to withstand the unrelenting pounding of the ocean's surge.  They stand tall, strong, and resilient as they warn boats of perilously rocky coasts, stretching their bright beacons across the sea regardless of the weather.  Their power and strength persevere as they continue to serve their purpose through the years.
The lighthouse is the perfect metaphor for something that is powerful, strong, and resilient.  It is a great metaphor for the current Orange County housing market.  It too is extremely strong, and is at a powerful level that will endure for quite some time.  The momentum and force of housing will push through the current pandemic and economic turbulence.
At the root of housing's strength is simple supply and demand. The active listing inventory is currently at 4,153 homes, its lowest level for a start to October since tracking began in 2004. Only 2012 came close with 4,400 homes. All other years had at least an additional 1,200 homes. In fact, there were 6,616 homes to start October in 2019, an extra 2,463 or 59% more.
The record low interest rate environment is fueling unprecedented demand. Rates have reached 9 record lows so far this year. With mortgage rates below 3%, current demand is off the charts. Demand, the number of pending sales over the prior 30-days, is at 3,254. The last time it was this high was in 2012 when it reached 3,255 at the start of October, yet there were 1,167 short sales and foreclosures embedded in those numbers, 36% of demand. Since short sales required lenders agreeing to take less, many of those short sales never closed. Today there are only 13 short sales and foreclosures included in demand, 0.4%. Last year demand was at 2,311 pending sales, 943 fewer or 29% less.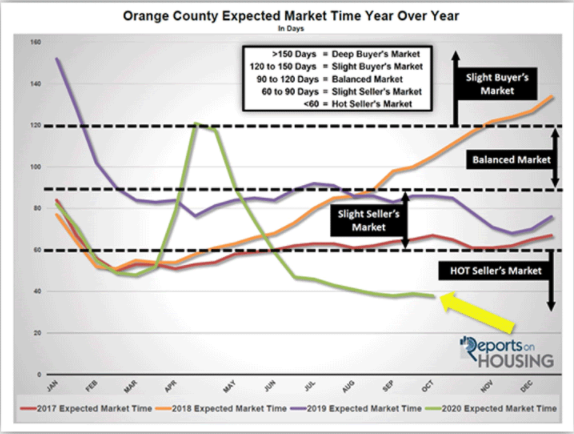 This excerpt is taken from an article by Steven Thomas