Unexpected Slump in Demand
Higher 30-year mortgage rates are having a major impact on Orange County demand, now at levels far below typical spring averages.
In 2002, the Los Angeles Angels won the World Series for the first time in franchise history. The next year they missed the playoffs completely with a losing record. After hoisting the Commissioner's Trophy the year before as champions of the world, they missed post season play due to a slump in wins to close out the year from July through September. The Orange County housing market is amid a similar slump in the middle of the Spring Market following the best year for local real estate since 2005.
According to Mortgage News Daily, 30-year mortgage rates have risen from 3.27% on December 31st to 5.55% today, a climb of more than 2.25%. Rapidly rising rates eat into affordability significantly. For example, the monthly mortgage payment for a $1.1 million purchase with 10% down has risen from $4,319 on December 31st, when rates were at 3.27%, to $5,652 per month today at 5.55%. That is a $1,333 per month rise, or nearly $16,000 per year. The significant change occurred in just four short months.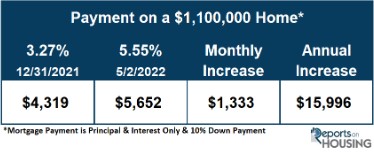 Excerpt taken from an article by Steven Thomas.