Luxury Surge
A record number of luxury homes closed in Orange County in August.
After a hiatus due to the Coronavirus, professional baseball, basketball, and hockey returned to empty stadiums and arenas.  For sports enthusiasts, it was a welcome distraction to COVID-19 and the daily news.  Hockey is in the midst of the Stanley Cup playoffs and down to the conference finals.  The high intensity play is reminiscent of the Winter Olympics where hockey players around the world compete for the gold.  One of the greatest moments in hockey history occurred during the 1980 games, the "Miracle on Ice," when the United States defeated Russia by scoring two goals in the final period.  Despite Russia being heavy favorites, stacked with experienced, professional players, and winning five of the previous six Olympics, they lost to the United States whose roster was filled with amateurs and was the youngest of the twelve competing teams.  The game was memorable and completely unexpected.
Life is full of unexpected events.  Just like the "Miracle on Ice," this year's housing market has surpassed just about everybody's expectations.  Demand has been off the  charts, the highest in years.  The active listing  inventory has remained at unbelievably low levels for this time of year.  Multiple offers are the norm.  Home values are on the rise.  Homes are quite literally flying off the shelves.  Luxury housing has also beat everybody's expectation and has been surging at a record pace.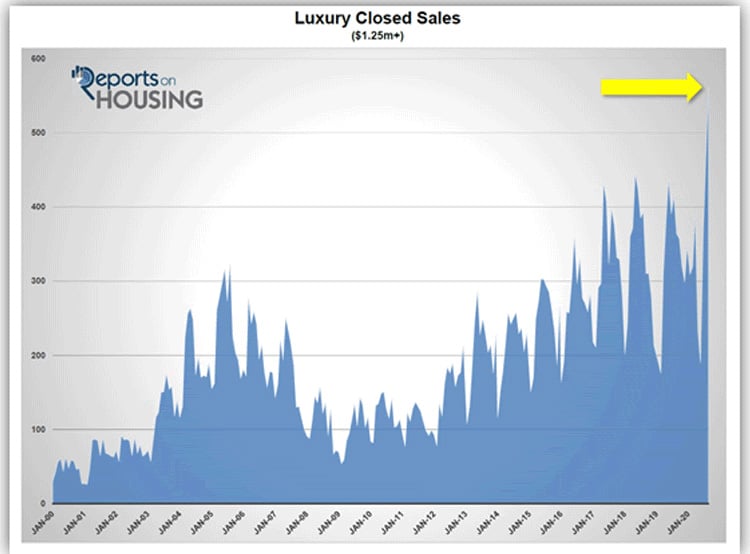 This excerpt taken from an article written by Steven Thomas
Quantitative Economics and Decision Sciences, B.A.
Excerpt taken from a report by Steven Thomas
Quantitative Economics and Decision Sciences, B.A.